Reference: Abbott, Richard. Analysis and Design of Composite and Metallic Flight Vehicle Structures 3 Edition, 2019
 (

NASA-CR-112236, 1973) gives the following example of a way to reduce the peak peel stresses in a single lap shear adhesive joint.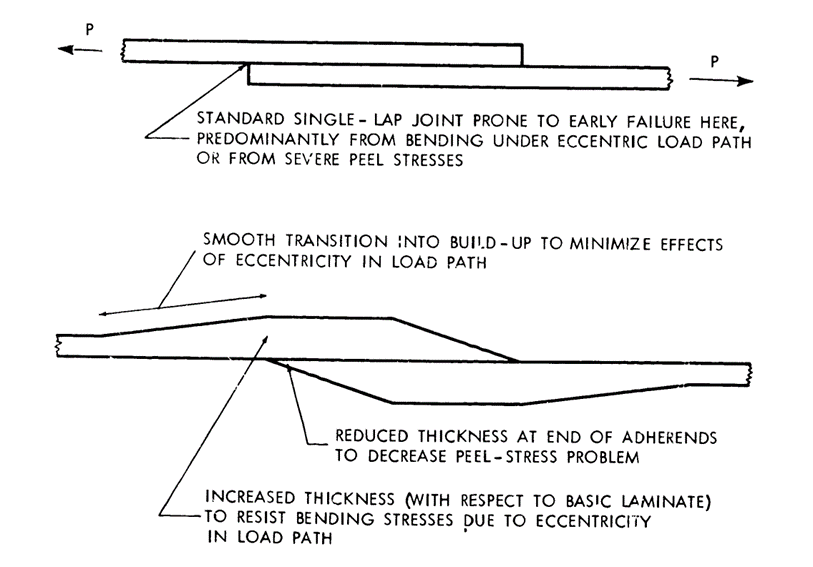 It is not practical to increase the thickness as shown in the figure above, but the inclusion of a chamfer feature at the free edge of the adherend can increase apparent joint shear strength by 15% or more.
The analysis of adhesive joints can be complex and there are many theoretical methods and software/finite element methods and solutions proposed for the analysis of adhesive joints. However, adhesive joints are prone to a high level of strength variability in real life due to manufacturing variability and an inability to predict the precise load effects that the joint experiences.
Experience has shown that a simple conservative apparent lap shear analysis has sufficient accuracy for most structural application if the joint conforms to preferred design guidelines.
In our experience, a suitable preliminary working value for the apparent shear strength of an adhesive joint at worst case environment condition is 1000psi. This value must be confirmed by test before being used in a critical application in service.
Complete list of bonded joint references at the Abbott Aerospace Technical Library: