Reference: Abbott, Richard. Analysis and Design of Composite and Metallic Flight Vehicle Structures 3 Edition, 2019
There are two levels of stability failures – buckling and crippling.
Definition of a buckle:
A buckle can be generally defined as a compression (or shear) failure in a feature (web or flange) or column that occurs in multiples of wavelengths over the whole length of the feature.
Definition of a crippling failure:
A cripple is a failure, of a corner feature or compound shape that is not reversible on the removal of the load. A crippling failure is usually considered an ultimate failure with no residual strength remaining after failure and occurs within a very local area rather than over a significant length. When a panel is in the buckled state it continues to carry shear load (usually significantly greater load than the load at which the feature buckles) and the structure can be said to have residual strength in the post-buckled state.
However, a buckled panel or web cannot continue to carry compression load after it has buckled.
Note that a buckle is not necessarily reversible. For a ductile material if the plastic limit is exceeded during the buckling process then permanent buckling occurs and the structure will not return to the unbuckled state. Flange compression buckling is usually permanent.
A compression buckled flange or column cannot continue to carry compression loads and effectively has no residual strength. However, a flange or web that is part of a load carrying section can fail in buckling and the section can continue to carry compression load until crippling failure of the section.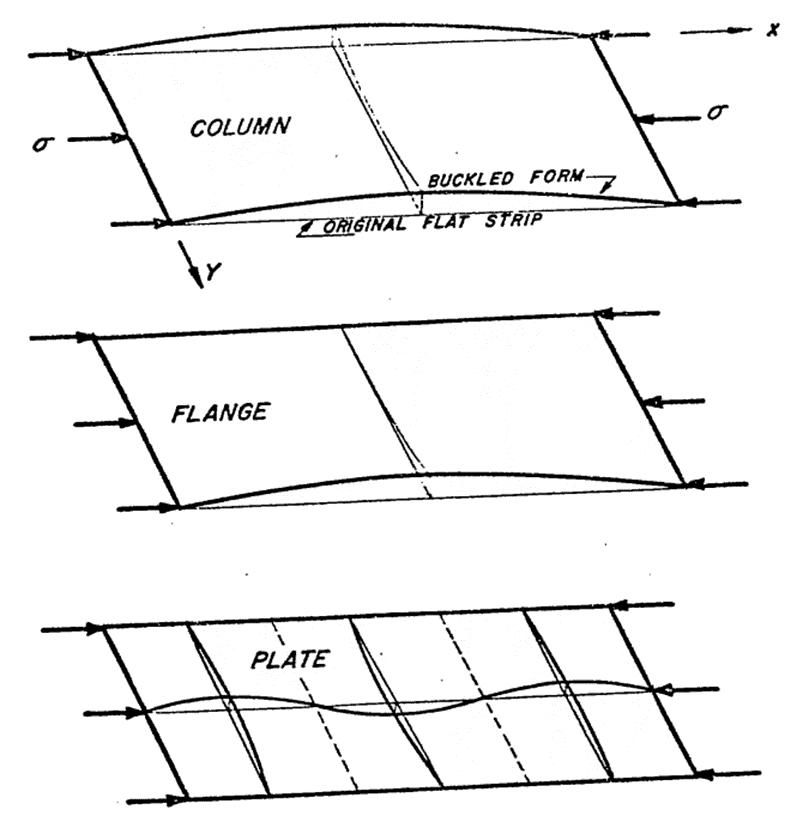 Important design considerations for Stability Critical Structures:
Note that the secondary loads developed in the post-buckling mode are proportional to the out-of-plane stiffness of the buckling feature.
For features that have a significant out-of-plane stiffness (such as thick panels, thick flanges or sandwich panels) it is undesirable to allow them to buckle at all.
For stiffer features, the secondary loads can be so large that critical failure modes can be induced in the local structure at the point of initial buckling that can cause widespread collapse or total failure of the assembly.
Stiffer features may buckle at a stress above the yield stress level of the material. This is more complex to predict and is explained in this chapter.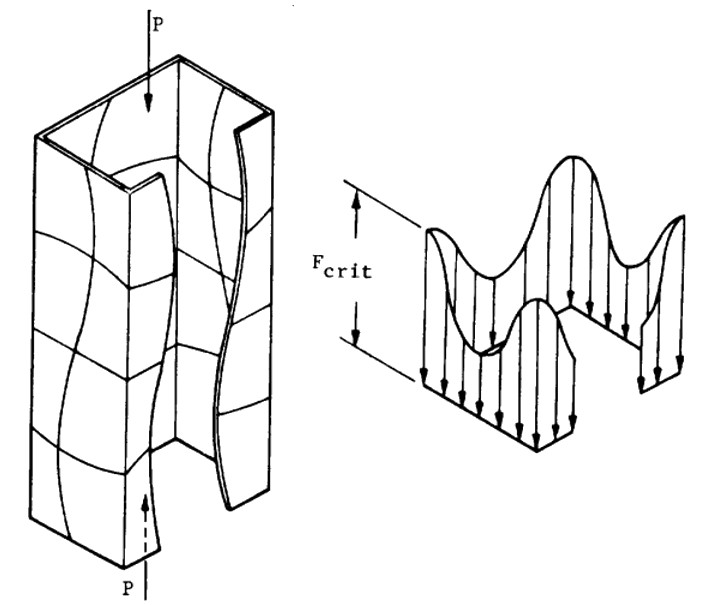 In addition, having features that buckle at service level loads is undesirable as the act of buckling creates a load reversal from compression to tension and therefore the act of buckling and returning to the unbuckled state imposes damaging fatigue cycles on the buckling structure.
Also, note that once a feature has buckled and returned to its original state it tends to return to the buckled state at a lower load than initiated the original buckle.
For most aircraft structures, buckling occurs before a crippling failure. In the post-buckled state, the loads are transferred from the buckling webs and flanges to the stable corners. The corners of a component or assembly are prone to crippling failure in the post-buckled state. Crippling of corners is covered in section 15.5.