naca-report-450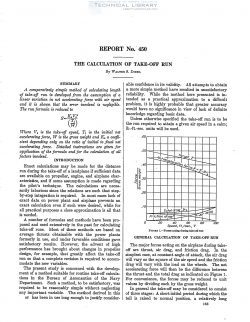 Version

84

Downloads

739.34 KB

File Size

1

File Count

August 26, 2016

Create Date

August 26, 2016

Last Updated
National Advisory Committee for Aeronautics, Report - The Calculation of Takeoff Run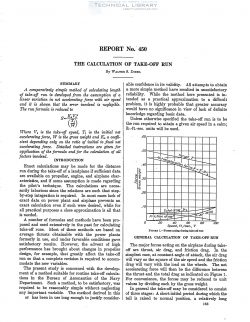 Exact calculations may be made for the distance
run during the take-off of a landplane if sufficient data
are available on propeller, engine, and airplane char-
acteristics, and if some assumption is made regarding
the pilot's technique. The calculations are neces-
sarily laborious since the relations are such that step-
by-step integration is required. In most cases lack of
exact data on power plant and airplane prevents an
exact calculation even if such were desired, while for
all practical purposes a close approximation is all that
is needed.
A number of formulas and methods have been pro-
posed and used extensively in the past for calculating
take-off runs. Most of these methods are based on
average thrusts obtainable with the power plants
formerly in use, and under favorable conditions gave
satisfactory results. However, the advent of high
performance has brought about changes in propeller
design, for example, that greatly affect the take-off
run so that a complete revision is required to accom—
modate the new variables.
The present study is concerned with the develop-
ment of a method suitable for routine take-off calcula-
tions in the Bureau of Aeronautics of the Navy
Department. Such a method, to be satisfactory, was
required to be reasonably simple without neglecting
any important variable. The method derived in this
or has been in use long enough to justify consider-
able confidence in its validity. All attempts to obtain
a more simple method have resulted in unsatisfactory
reliability. While the method here presented is in—
tended as a practical approximation to a difficult
problem, it is highly probable that greater accuracy
would have no significance in view of lack of definite
knowledge regarding basic data.
The major forces acting on the airplane during take-
off are thrust, air drag, and friction drag. In the
simplest case, at constant angle of attack, the air drag
will vary as the square of the air speed and the friction
drag will vary with the load on the wheels. The net
accelerating force will then be the difference between
the thrust and the total drag as indicated on Figure 1.
For convenience, the forces may be reduced to unit
values by dividing each by the gross weight.
| File | Action |
| --- | --- |
| naca-report-450 The Calculation of Takeoff Run.pdf | Download |