NASA-TN-D-6431
Download
| File | Action |
| --- | --- |
| NASA-TN-D-6431 Validation of a General Purpose Airborne Simulator for Simulation of Large Transport Aircraft Handling Qualities.pdf | Download |
Validation of a General Purpose Airborne Simulator for Simulation of Large Transport Aircraft Handling Qualities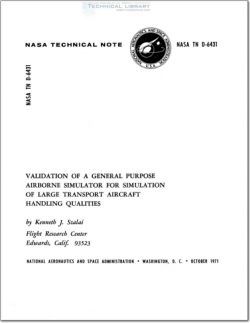 Before any simulator can be used confidently as a tool in handling—qualities
research, it must be validated. The validation processes may take many forms, but
all have one goal: to show that the simulator can be used in lieu of the actual vehicle.
The general purpose airborne simulator (GPAS) is a Lockheed JetStar airplane which
has been modified to be used as an in-flight simulator for research into the handling
qualities of large subsonic and supersonic transport aircraft in cruise (refs. 1 to 4).
Thus, validating the GPAS meant demonstrating that a large, high—speed aircraft, the
XB —70 —1, could be simulated both accurately and realistically. In theory, an accurate
simulation would automatically produce a realistic simulation, if accuracy is consid—
ered to be reproduction of all the environmental and dynamic responses of a particular
aircraft. In practice, however, limitations in physical capability, time, or funds lead
to compromises which result in selecting those items which will be duplicated precisely
and those which will be reproduced grossly or left entirely uncontrolled. Failure to
duplicate a particular parameter or characteristic of a vehicle is justified if the pilot
is insensitive to changes in the parameter or characteristic in the actual vehicle. Be-
cause it is rarely possible to conduct sensitivity studies on the actual vehicle prior to
a simulation program, compromises must be based on previous experience, pilot
comments, and sensitivity studies in the simulator.
If the resulting simulation is realistic from the pilot's standpoint, the experimenter
is correctly led to assume that the mathematical modeling of the vehicle has been
adequate and that the effect of mismatched characteristics on the overall simulation
fidelity is slight. The usual simulation result is that several discrepancies exist be—
tween the simulator and the actual vehicle. The problem is complicated because it is
necessary to determine whether the discrepancies are caused by an inadequate or in—
accurate model or mismatched characteristics. This report considers the first pos—
sibility, that differences noted by the pilot between the XB—70 and GPAS handling
qualities were the result of an inaccurate model of the XB—70. Reference 5 discusses
the second possibility, with emphasis on motion cue mismatches which occurred
during the validation.