AMCP-706-202
Download
| File | Action |
| --- | --- |
| AMCP-706-202 Engineering Design Handbook - Helicopter Engineering - Part II; Detail Design.pdf | Download |
Engineering Design Handbook - Helicopter Engineering - Part II; Detail Design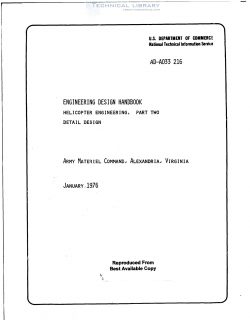 06•202, Engineering Design Handbook, 
He!icopter Enginer.•iq. Parr Two. Detail Design. is 
the second part of a th:ec-voiume helicopter 
engineering design handbook. Thc preliminary 
design (covered in AMCP 706-201) is •veloped 
during the proposal phase. at which time all sub- 
systems must be defined in sufficient detail to deter- 
m.ne aircraft configuration, weight. and pcrfor- 
mance. The detail design involves a reexamination of 
all subsystems in order to define each clemcnt 
thoroughly with the aims of optimizing the aircraft 
wi:h regard to mission capability as well as cost con- 
siderations. 
Detailed subsystem specification requirements are 
the basis for in-depth analysis and evaluation of sub- 
system characteiistics and interfaces. Based upon 
complete system descriptions and layouts. pcrror- 
mancc. weight. end cost trade-offs arc finalized. 
Periodic reviews of the design are. conducted to 
evaluate maintainability. reliability. safety. produci- 
bihiy. und €onforr,jancc with specificatioa require- 
mcnts. 
Development testing may be required to pet mit 
evaluation of alternate solutions to design problems 
or to obtain adequate information for trade-off in- 
vestigatiuns. Apprepriatc considcraåon or human 
engineering factors often requires evaluation of infor. 
mal mock-ups.
Weight control is an important element of the 
detail dcsign phase. Subsystcm weight budgets. pre. 
pared on the basis or the preliminary design group 
weigh! breakdown, arc at the initiation of 
the detail design phRse. The continuing evaluatlOn of 
compliance with thc budget as an csscntial part of the 
manzgcmcnt of the projec' und the B€,suran't of com- 
pliance with weight guarantees of the helicopter de- 
tail specification are described in conjuncuon with 
the discussion of the Wcight Engineering (unction In 
AMCP 706-201 
The requirements and procedures fot airworthi- 
ness qualification and proof Of Contract compliance 
for a new model hcltcoptcr for the US Army are 
defined and discussed in A MCP 706-203. which is the 
third volume in this handbook series Qualification is 
not time-phased. but •s a continuing part of the ac- 
quisltion program. A number Of qualification 
requirements are integral parts of the detail design ef- 
fort.