naca-tn-2365
Version

49

Downloads

2.20 MB

File Size

1

File Count

December 14, 2016

Create Date

December 14, 2016

Last Updated
National Advisory Committee for Aeronautics, Technical Notes - Analytical Evaluation of Aerodynamic Characteristics of Turbines with Nontwisted Rotor Blades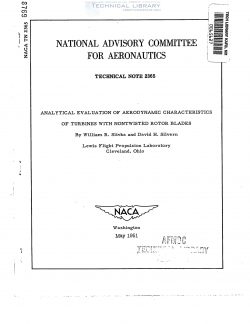 An analytical inyestigation was made of the aerodynamic char—
acteristics (relative rotor—entrance mach number, reaction factor,
rotor turning angle, radial variation of specific work output, and
rotor-exit tangential-velocity head) of single—stage turbines with
nontwisted rotor blades, and an evaluation of these characteristics
on the basis of the simplified—radial-equilibrium analysis was made
by comparison.with the corresponding characteristics of free-vortex
turbines. In order to obtain an indication of the effects of the
radial shifts of weight flow on the significant parameters discussed
in the comparison, further analyses were made of a contemporary single-
stage turbine where the forces due to the curvature of the streamlines
in the axial-radial plane are approximated.
On the basis of the simplified-radial-equilibrium analysis and the
analysis accounting for streamline curvature in the axial—radial plane,
the aerodynamic characteristics of nontwisted-rotor4blade turbines are
approximately those of free-vortex turbines intended for similar appli-
cation for values of hub-tip—radius ratios that are used in current
turbines.
Nontwisted turbine blades were first used in early steam-turbine'
practice without regard to radial variations in flow conditions.
Although more recently steam-turbine designers have recognized that
certain radial variations of flow do exist, consideration of manufac—
turing costs have generally limited the extent to which these radial
variations have been accounted for. For aircraft gas turbines, the
great importance of high single-stage power output, together with
high turbine efficiency, has required that allowances for radial
variations in flow conditions be made in design techniques. These
techniques are generally based on either free-vortex flow or constant
specific weight flow, either of which results in twisted turbine rotor
blades.
Recent research has indicated that it is desirable to incorporate
multiple cooling passages within turbine rotor blades (reference 1).
The manufacture of such cooled blades will be simplified if the rotor
blades can be of uniform camber and without twist along the blade
length, that is, nontwisted rotor blades.
The design of nontwisted rotor blades in combination with non-
twisted stator blades is discussed in reference 2. Analysis of the
data of reference 2 shows that the relative flow angle at the rotor
entrance varies along the radius. Variation of the relative rotor-
entrance flow angle, combined with nontwisted rotor blades, however,
will very likely result in increased losses in a turbine that has high
aerodynamic loads and a high relative rotor-entrance mach number.
| File | Action |
| --- | --- |
| naca-tn-2365 Analytical Evaluation of Aerodynamic Characteristics of Turbines with Nontwisted Rotor Blades.pdf | Download |