naca-rm-l9l08
Version

0

Downloads

741.66 KB

File Size

1

File Count

April 26, 2017

Create Date

April 26, 2017

Last Updated
National Advisory Committee for Aeronautics, Research Memorandum - An Investigation of a Supersonic Aircraft Configuration Having a Tapered Wing with Circular Arc Sections and 40° Sweepback Static Longitudinal Stability and Control Characteristics at a Mach Number of 1.40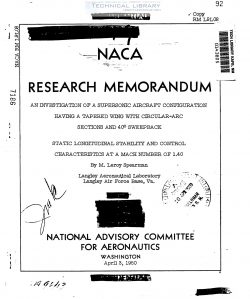 An investigation has been conducted in the Langley #— by h—foot
supersonic tunnel to determine the longitudinal stability and control
characteristics of a model of a supersonic airplane configuration at
a Mach number of l.h0. The model had a #00 sweptback wing with
lO—percent—thick circularharc sections normal to the quarter—chord line.
The results of the investigation indicated a high degree of longi—
tudinal stability that was fairly constant throughout the trim-lift—
coefficient range. The altitude and maneuverability in flight at a
Mach number of l.#0 of an airplane similar to the model would be limited
by the low maximum trim lift coefficient (0.38) attainable with the
maximum negative stabilizer incidence available. The stabilizer hinge—
moment parameters were large but, because of their linear nature;
probably could be reduced by relocating the stabilizer pivot point.
One of the important fields of research at supersonic speeds is
that concerned with the problems of stability and control. A need
exists for comprehensive wind—tunnel investigations of supersonic air—
craft configurations to determine experimentally the stability and
control characteristics at supersonic speeds. Such investigations
should include the effects of various aircraft components on the
over—all stability characteristics and provide experimental data for
subsequent correlation with theoretical calculations. An investigation
of two supersonic aircraft configurations has been made in the
Langley 9—inch supersonic tunnel (reference 1); however, tests of only
the complete models with fixed control surfaces were made.
An investigation has been conducted in the Langley h— by h—foot
supersonic tunnel to determine the aerodynamic characteristics of a
relatively large size model of one of the Supersonic aircraft configu—
rations utilized in reference 1. This model was equipped with a remotely
controllable stabilizer, a movable rudder, and movable ailerons. In
addition, the horizontal tail, vertical tail, wing, and canopies were
detachable. Forces and moments acting on the model were measured by
means of a six—component internal strainfigage balance and all control—
surface hinge moments were measured by means of strain gages. Although
complete longitudinal, lateral, and directional stability and control
data as well as model—breakdown data have been obtained at mach numbers
of 1.40 and 1.59, this paper presents only the results of the longi—
tudinal stability and control investigation;at a_Mach number of l140.
| File | Action |
| --- | --- |
| naca-rm-l9l08 An Investigation of a Supersonic Aircraft Configuration Having a Tapered Wing with Circular Arc Sections and 40° Sweepback Static Longitudinal Stability and Control Characteristics at a Mach Number of 1.40.pdf | Download |