naca-report-962
Version

100

Downloads

1.52 MB

File Size

1

File Count

September 1, 2016

Create Date

September 1, 2016

Last Updated
National Advisory Committee for Aeronautics, Report - The Aerodynamic Forces on Slender Plane and Cruciform Wing and Body Combinations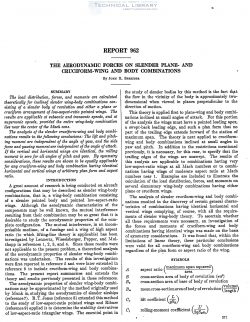 The load distribution, forces, and moments are calculated
theoretically for inclined slender wing-body combinations con-
sisting of a slender body of rerolution and either a plane or
cruciform arrangement of low-aspect-ratio pointed wings. The
results are applicable at subsonic and transmic speeds, and at
supersonic speeds, provided the entire wing-body combination
lies near the center of the .Mach cone.
The analysis of the slender cruciform-wing and body combi-
nations results in the following conclusions: The lift and pitch-
ing moment are independent of the angle of yaw, and the side
force and yawing moment are independent of the angle of attack.
I)" the vertical and horizontal wings are identical, the rolling
moment is zero for all angles of pitch and yaw. By symmetry
considerations, these results are shown to be equally applicable
for any cruciform—wing and body combination hazing identical
horizontal and vertical wings of arbitrary plan form and aspect
ratio.
A great amount of research is being conducted on aircraft
configurations that may be described as slender wing-body
combinations, that is, a wing-body combination consisting
of a slender pointed body and pointed low-aspect—ratio
wings. Although the aerodynamic characteristics of the
components may be well known, the mutual interference
resulting from their combination may be so great that it is
desirable to study the aerodynamic properties of the com—
plete configuration. The mutual interference, in an incom—
préssible medium, of a fuselage and a wing of high aspect
ratio (to which lifting-line theory is applicable) has been
investigated by Lennertz, Wieselsberger, Pepper, and Mul-
thopp in references 1, 2, 3, and 4. Since these results were
not applicable to the present problem, a theoretical analysis
of the aerodynamic properties of slender wing-body combi-
nations was undertaken.
| File | Action |
| --- | --- |
| naca-report-962 The Aerodynamic Forces on Slender Plane and Cruciform Wing and Body Combinations.pdf | Download |