naca-report-186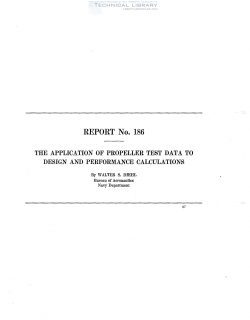 Version

110

Downloads

748.90 KB

File Size

1

File Count

August 25, 2016

Create Date

August 25, 2016

Last Updated
National Advisory Committee for Aeronautics, Report - The Application of Propeller Test Data to Design and Performance Calculations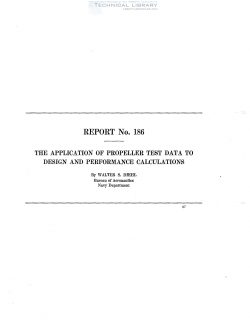 This report is a study of test data on a family of Durand's propellers (Nos. 3, 7, 11, 82, 113,
139), Which is fairly representative of conventional design, prepared for publication by the
National Advisory Committee for Aeronautics. The test data are so plotted that the proper
pitch and diameters for any given set of conditions are readily obtained. The same data are
plotted in other forms which may be used for calculating performance when the ratio of pitch
to diameter is known. These new plots supply a. means for calculating the performance, at any
altitude, of airplanes equipped with normal or supercharged engines.
The coefficients used and the methods of plotting adopted in this report coordinate the
results of a few tests into complete families of curves covering the entire range of 19/1) ordinarily
used. This method of analyzing test data enables an investigator to plan tests systematically
and leads to useful application of test data.
The conventional methods of plotting and tabulating propeller data are undoubtedly the
most logical forms in which the test results can be presented, and they are quite satisfactory for
a single propeller; but when we come to study a family of propellers in which'the pitch is the
only variable, new methods of plotting must be adopted if the full value of the data is to be
available. All airplane designers who have had occasion to use data from Durand and Lesley's
or similar tests are fully acquainted with the dificulties encountered in applying these data
to design problems. This report has been prepared at the suggestion of Dr. D. W. Taylor to
supply data for design and test analysis.
The family of propellers, Durand numbers 139, 11, 7, 3, 82, and 113 with nominal pitch
ratios 03, 0.5, 0.7, 0.9, 1.1, and 1.3 respectively, was chosen as being most representative of
the conventional designs. These propellers have narrow, tapered blades and a more or less
conventional section with an uncambered driving face. The nominal pitch values are constant
along the blade, referred to as the driving face.
| File | Action |
| --- | --- |
| naca-report-186 The Application of Propeller Test Data to Design and Performance Calculations.pdf | Download |