naca-report-1339
Version

136

Downloads

6.40 MB

File Size

1

File Count

November 2, 2016

Create Date

November 2, 2016

Last Updated
National Advisory Committee for Aeronautics, Report - A Summary and Analysis of the Low Speed Longitudinal Characteristics of Swept Wings at High Reynolds Number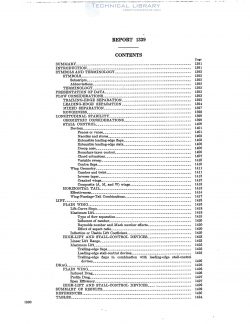 At the time when the swept wing was first proposed for
high—speed flight (refs. 1 to 9), it was recognized that the
induced angle-of—attack distribution and the characteristic
boundary-layer growth on such wings would promote tip
stall. In addition, simple sweep theory indicated the lift
capabilities of swept wings to be materially less than for
comparable straight wings. Both the tip-stalling tendencies
and low values of attainable lift of swept wings constituted
landing and take—off problems requiring considerable research
at low speeds.
In an early summary of the longitudinal stability character—
istics of swept wings, Shortal and Maan (ref. 10) established
a relation between wing plan~form parameters and the type
of longitudinal stability that existed at or prior to maximum
lift and, on the basis of such' a correlation, showed that
longitudinal instability due to tip stalling was dependent
primarily on aspect ratio and sweep angle. With the data
available at that time, they established an empirical variation
of aspect ratio with sweep angle that defined a stability
boundary.
In the ensuing years, the low—speed research eflort has
been directed toward determining the characteristics of
swept wings, understanding the basic flow phenomena, and
developing means to improve the stability characteristics
of those wings the geometry of which was such as to place
them on the unstable side of the stability boundary of
reference 10. Much work has also been directed toward
obtaining satisfactory longitudinal characteristics with
horizontal tails in combination with wings falling on either
side of the stability boundary.
As a result of this intensive research effort, a large amount
of literature has accumulated in which the characteristics
of many wings are described both with and without various
devices for improving the characteristics. Inasmuch as the
literature is comprised of many individual investigations, the
present authors have undertaken to provide a comprehensive
review of the present knowledge of the low—speed character-
istics of swept wings. The present report has two specific
purposes.
The first is to make an analysis and generaliza-
tion of these data in order to show the basic efiects and
trends of sweep and thus provide greater usefulness of the
data by permitting reasonable interpolation and extrapola—
tion. The second is to summarize in tabular form the basic
results obtained at large Reynolds numbers (above 4.0X10")
at low Mach numbers (less than 0.25). Two deviations from
the stated purposes are noted in that unpublished data
available to the authors have been used to supplement the
literature on swept wings and also that data.
| File | Action |
| --- | --- |
| naca-report-1339 A Summary and Analysis of the Low Speed Longitudinal Characteristics of Swept Wings at High Reynolds Number.pdf | Download |