naca-tm-768
Download
| File | Action |
| --- | --- |
| naca-tm-768 The Interdependence of Profile Drag and Lift with Joukowski Type and Related Airfoils.pdf | Download |
National Advisory Committee for Aeronautics, Technical Memorandum - The Interdependence of Profile Drag and Lift with Joukowski Type and Related Airfoils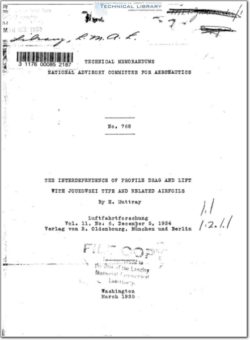 On the basis of a systematic investigation of thtin—
gen wind—tunnel data on Joukowski type and related air~
foils, it is shown in what manner the profile drag coeffi—
cient is dependent on the lift coefficient. It is found
that, up to camber parameters % = 0.25 and thickness
parameters % = 0.4, the profile drag coefficient is rep~
resented as a cubical parabola whose apex for cambered
airfoils with ca values lies above zero. With given
camber these peak ca values are in approximately linear
relationship with the thickness parameters. The individu—
al factors for the construction of the profile drag polars
are given. They afford a more accurate calculation of the
performance coefficients of airplane designs than other—
wise attainable with the conventional assumption of conu
stant profile drag coefficient.
The assumption of constant Parasite drag coefficient
in the performance calculation of airplane designs (refer—
ence 1) is particularly inadequate when the ca values
are high, because a portion Of this drag, the so~called
"profile drag"fi* upon approaching ca = 1.0, rises consid»
erably with increasing ca values. As a result the aero—
dynamic characteristics, such as criterion of climb and
lift/drag ratio, approach for flight with best climb and
ceiling factor rather the values_ for flight with be_st fine~
fineness ratio, and consequently do not reach the fig~
ures arrived at with an assumedly constant parasite drag
coefficient.
However, since this assumption results in a compara~
tively convenient method of calculation, it was attempted
to extend these methods at least to a group of such wing
sections for which the assumption of constant parasite
drag coefficient does no longer hold. To tliis end, we in~
troduced in Schrenk's report (reference 2) a second law
for the quantity of the profile drag coefficient as funct
tion of ca, to wh1ch the representation of the profile
drag polars as a parabola symmetrical to the Cw axis core
responded.