naca-report-573
Download
| File | Action |
| --- | --- |
| naca-report-573 Aerodynamic Characteristics of NACA 23012 and 23021 Airfoils with 20% Chord External Airfoil Flaps of NACA 23012 Section.pdf | Download |
National Advisory Committee for Aeronautics, Report - Aerodynamic Characteristics of NACA 23012 and 23021 Airfoils with 20% Chord External Airfoil Flaps of NACA 23012 Section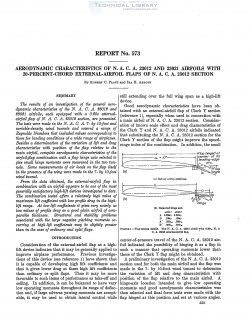 The results of an investigation of the general aero-
dynamic characteristics of the N. A. C. A. 23012 and
23021 airfoils, each equipped with a 0.20s external-
airj'oilflap of N. A. C. A. 23012 section, are presented.
The tests were made in the N. A. C. A. '7- by 10-foot and
variable-density wind tunnels and covered a range of
Reynolds Numbers that included values corresponding to
those for landing conditions of a wide range of airplanes.
Besides a determination of the variation of lift and drag
characteristics with position of the flap relative to the
main airfoil, complete aerodynamic characteristics of the
airfoil-flap combination with a flap hinge art's selected to
give small hinge moments were measured in the two tun-
nels. Some measurements of air loads on the flap itself
in the presence of the wing were made in the 7'— by 10—foot
wind tunnel.
From the data obtained, the e2ternal-ai1j'oil flap in
combination with an airfoil appears to be one of the most
generally satisfactory high-lift devices investigated to date.
The combination tested afiers a relatively high value of
maximum lift coeficient with low profile drag in the high
lift range. At low lift coezficients it gives very nearly as
low values of profile drag as a good plain airfoil of com-
parable thickness. Structural and stability problems
associated with the large negative pitching moments oc-
curring at high lift coeficients may be slightly greater
than in the case of ordinary and split flaps.
Consideration of the external-airfoil flap as a high-
lift device indicates that it may be generally applied to
improve airplane performance. Previous investiga-
tions of this device (see reference 1) have shown that
it is capable of developing high lift coefficients and
that it gives lower drag at these high lift coefficients
than ordinary or split flaps. Thus it may be more
favorable to such items of performance as take-off and
ceiling. In addition, it can be balanced to have very
low operating moments throughout its range of deflec-
tion and, if large adverse yawing moments are accept-
able, it may be used to obtain lateral control while
still extending over the full wing span as a high-lift
device.