naca-report-274
Download
| File | Action |
| --- | --- |
| naca-report-274 The NACA Photographic Apparatus for Studying Fuel Sprays from Oil Engine Injection Valves and Test Results from Several Researches.pdf | Download |
National Advisory Committee for Aeronautics, Report - The NACA Photographic Apparatus for Studying Fuel Sprays from Oil Engine Injection Valves and Test Results from Several Researches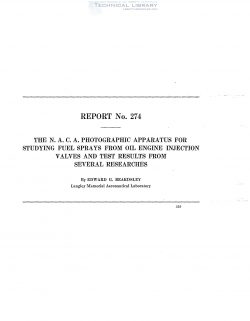 Apparatus for recording photographically the start, growth, and cut-01')r of oil sprays from
injection values has been developed at the Langley Memorial Aeronautical Laboratory of the National
Advisory Committee for Aeronautics. The apparatus consists of a high-tensabn transformer by
means of which a banh of condensers is charged to a high coltage. The controlled discharge of these
condensers in sequence, at a rate of several thousand per second, produces electric sparks of suficient
intensity to illuminate the moving spray for photographing. The sprays are injected from carious
types of values into a chamber containing gases at pressures up to 600 pounds per sguare inch.
Several series of pictures are shown. The results give the efects of injection pressure, chamber
pressure, specific gravity of the fuel oil used, and injection-calm design, upon spray characteristics.
The first successful compression—ignition oil engine, using air injection, was built about
1897, by Doctor Diesel. About 1912, McKechnie constructed a practicable soc-called solid or
hydraulic injection engine. Since that time the solid—injection engine has been gradually
developed and the demand for it has so increased that to—day a large number of engine builders
are manufacturing this type. Much progress has been made, and a great deal of knowledge
has been gained concerning solid-injection engines. '
The part of the engine about whose operation we have the least information thus far, is
probably one of the most important parts,.namely, the injection valve: Sprays from injection
valves have been examined in the atmosphere as to their cone angle, fineness of atomization,
and rapidity of combustion when ignited. They have been injected into water and the pene—
tration noted visually. However, the complete behavior of a spray injected into dense air
has always been a matter for conjecture and theoretical computation. (Reference 1.) Yet it
is something which is very important, and because of this lack of definite knowledge, the design
of an injection valve to give the best results in a particular combustion chamber has been to a
large degree a process of cut and try.