DTIC-AD-P-010772
Download
| File | Action |
| --- | --- |
| DTIC-AD-P-010772 Aircraft Loads.pdf | Download |
Aircraft Loads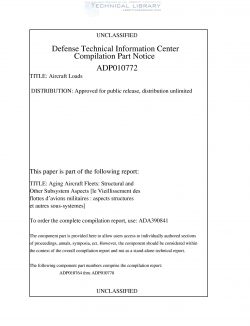 SUMMARY 
The life of a weapon system is influenced to a high degree by the structural integrity of the airframe. Numerous programs to 
ensure this have been established within NATO's Air Forces. Structural loads, leading to fatigue as well as corrosion, 
depending on the usage environment, are the major reason for degradation Of structures. The many different classes Of loads, 
the generation of loading conditions during the design phase, as defined in the weapons systems specification, consideration 
Of static and fatigue loads for structural lay-out and validation concepts are presented. 
The procedure of convening overall aircraft loads ("external loads") into individual component loads is shown in principal . 
O. BACKGROUND 
The effectiveness Of military force depends in part on the operational readiness Of aircraft which itself is largely dependent 
on the condition of the airframe structure. This condition again is affected by a number of factors among those the physical 
loads in various forms together with the used life Of the airframe are important. With increased and extented usage Of 
airframes in all airforce inventories and the requirement for various role changes the subject of airframe loads assessment, - 
qualification and aircraft loads-monitoring becomes more important, not only for flight safety but also and with an 
increasing tendency for economic reasons. 
A general understanding Of the various types Of airframe loads, their generation and application during the design process, 
the transfer processes from "external loads" into "structural loads", loads qualification during ground and flight testing is 
therefore of equal importance to the process of usage monitoring and derivation of usage factors from the different fatigue 
tests or the set-up of structural inspection programs. 
When life of aircrafts are discussed, often the flight hours or number of flights are still considered the governing factor, 
sometimes adapted with factors on "damage hours" or "usage", while from a structural engineering viewpoint the 
operational stress spectrum and therefore the life on the different aircraft components are not only a matter of flight hours 
and spectrum ratio but also driven by modification status, structural weight status and role equipment. 
This paper describes loads- analysis and verification activities during the major phases ofthe life of an 
airframe, where structural loads and their influences on the airframe condition are vital to the structural integrity and the 
economic usage of the weapon system: 
* The structural loads during design and Qualification of A/C structures 
* Loads monitoring during usage 
Impacts due to aircraft modification and role changes. 
Trends with respect to the increased usage of theoretical modelling are also discussed.