ARMY-TM-1-1500-204-23-4
Download
| File | Action |
| --- | --- |
| ARMY-TM-1-1500-204-23-4 Electrical and Instrument Maintenance Procedures and Practices - Vol. 4.pdf | Download |
Electrical and Instrument Maintenance Procedures and Practices - Vol. 4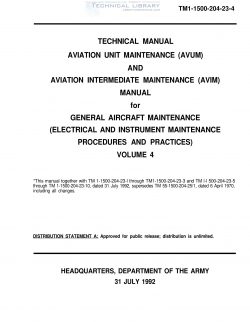 1-1. 
Purpose. This volume provides general 
information pertaining to the electrical and instrument 
maintenance procedures and practices. Specific 
maintenance practices are found in the individual 
aircraft maintenance manuals. This volume is of 
maximum benefit to the mechanic who desires 
information about electric shop operations, electrical 
maintenance practices, and instrument shop operations. 
This volume furnishes the mechanic a source of 
information about how to perform various mechanical 
functions which are used on all aircraft. This volume is 
not a requisitioning authority, and applicable repair parts 
and special tools list should be consulted to obtain the
2-1. General Shop Rules. The practices and 
procedures described in this chapter pertain to the repair 
functions of aviation activities and are applicable to all 
levels of maintenance. Because of the many types of 
Army aircraft, each shop within the manufacturing and 
repair section must, of necessity, have personnel trained 
in general practices and procedures to the extent that 
different type and model aircraft do not upset a smooth 
running shop. 
a. Responsibility. All supervisory personnel in the 
manufacturing section are responsible for a continuing 
and effective shop safety program. To implement and 
maintain this program, shop supervisors will utilize 
bulletin boards, signs, and any other effective method. 
Shop personnel will cooperate in the shop safety 
program by making helpful recommendations, and 
continually exercising care and caution in the operation 
of all shop equipment. All shop personnel will strive to 
improve the safety program and be especially alert to 
observe and correct unsafe shop practices. All 
accidents, no matter how minor, shall be reported to the 
shop supervisor, and all published instructions regarding 
safety shall be strictly adhered to. Also, safety 
engineers and safety officers will ensure that proper 
safety procedures are adhered to in accordance with AR 
385-10, Army Safety Program; AR 385-30, Safety Color 
Code Markings and Signs; AR 385-32, Protective 
Clothing and Equipment; TB 385-4, Safety Precautions 
for Maintenance of Electrical/Electronic Equipment; The 
Occupational Safety and Health Act of 1971, OSHA 
1910. 251; all applicable fire codes, NFPA 410; and 
other accepted civilian and military safety practices.