AMCP-706-312
Download
| File | Action |
| --- | --- |
| AMCP-706-312 Engineering Design Handbook - Rotational Molding of Plastic Powders.pdf | Download |
Engineering Design Handbook - Rotational Molding of Plastic Powders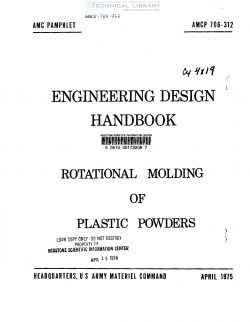 1-1 DEFINITION 
Rotational molding, rotomolding, or roto- 
casting is a production process to form hollow 
parts of limitless size wherein liquid or pow- 
dered thermoplastic resins—and to a limited 
extent thermosetting materials—are charged 
into a split mold. The mold is then rotated 
continuously in a biaxial mode, in a high- 
temperature environment to above the resin 
melt temperature. When the plastic material 
has covered the inside of the mold and 
densified, the mold assembly while still rotat- 
ing is cooled to room temperature. The 
rotation is stopped and the part removed. 
1-2 BACKGROUND 
Rotational molding is not a new procesing 
technique, having had a place in industry 
since the 1940's. The materials prior to 1961 
were limited to vinyl plastisols in liquid form 
and were used primarily in the manufacture 
of novelties and decorative items such as 
artificial fruits, mannequins, children's toys, 
and hollow display items. 
What is new in rotational molding in recent 
years relates not to plastisols but to powdered 
resins of about 35 mesh which have triggered 
improvements in equipment design and the 
overall technology, making this technique 
among the major plastics processing methods 
of today. Therefore, this handbook will be 
devoted to the thermoplastic powdered engi- 
neering grade polymer rotational molding 
technology and not to plastisols which have 
little significance in the military complex.
1-3 MATERIALS 
In 1961, the first polyolefin powder, a 
low-density polyethylene, was publicly dem- 
onstrated to the rotational molding industry. 
Indications are that polyethylenes will remain 
one of the most popular materials for roto- 
molding, because of their processability, 
broad range of properties, and low cost. 
Today, however, most of the major thermo- 
plastic raw material suppliers have investi- 
gated specially formulated powders for rota- 
tional molding. These include impact styrene, 
polypropylene, nylons, acrylonitrile butadi- 
ene styrene, polycarbonate, acetals, ionomers, 
fluoropolymers, polybutylene, rigid polyvinyl 
chloride, and special grades of the cellulosics. 
They can be foamed or reinforced with 
fiberglass. In addition to the raw material 
suppliers, many rotational molders also have 
used custom grinding serwices or have their 
own in-plant grinding facilities, which also 
enlarges the material selection for this pro- 
cess.