AFFDL-TR-74-123
Download
| File | Action |
| --- | --- |
| AFFDL-TR-74-123 Low and High Frequency Aircraft Gunfire Vibration; Prediction and Laboratory Simulation.pdf | Download |
Low and High Frequency Aircraft Gunfire Vibration; Prediction and Laboratory Simulation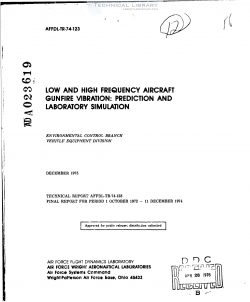 This report was prepared in the Vehicle Equipment Division (FEE), Air 
Force Flight Dynamics Laboratory, Wright-Patterson Air Force Base, Ohio. 
The report contains the results Of an in-house research program to develop 
a vibration prediction technique and a laboratory test method for aircraft. 
exposed to gunfire environments. 
This work was conducted from 1 October 1972 to 11 December 1974 under 
Task 329A0301 with Robert W. Sevy as project engineer. 
The authors gratefully acknowledge the contribution Of Mark Hal ler , 
Special mention must 
4950th/Digita1 Process ing Branch, Computer Center. 
be made Of the in-house laboratory contributions Of Harold Johnson in the 
fabrication of special equipment and assisstance in the tests. 
this work results from follow-on areas delineated in a previous 
study (Reference 1 ) 
a study which involved the development of a 
prediction rationale for afrcraft vibration induced by the gun blast 
pressure fields of aircraft armaments. The bulk of this past effort 
required the synthesis Of a prediction technique based on energy coupl ing 
between the gunfire blast pulses and the resultant structural response. 
The response spectrum was defined for the high frequency region and was 
expressed fn terms of acceleration power spectral density. In contrast, 
the low frequency region (below 300 Hz) rmained largely undefined. It 
is this subject, its explication and final integration into the high 
frequency random portion of the prediction rationale, that constitutes 
the first objective of this work. The second objective involves the 
develogment of a viable and economic laboratory test method to acconmdate 
the low and high frequency elements. 
In the process Of developing the 
first theæ a flexible prediction function is sumoned forth and adapted 
to the special conditions and requirements of this technology and so 
beconEs tre medium through which the idea conduces to the achievement. 
Among the results of this work is Revision C to MIL-STD-810, "kthod 
519.2 Gunfire Vibration, Aircraft" which is included as Appendix A.