USAAMRDL-TR-75-44
Version

95

Downloads

3.86 MB

File Size

1

File Count

March 7, 2017

Create Date

March 7, 2017

Last Updated
U.S. Army Air Mobility Research and Development Laboratory - Flight Test of the Aerospatiale SA-342 Helicopter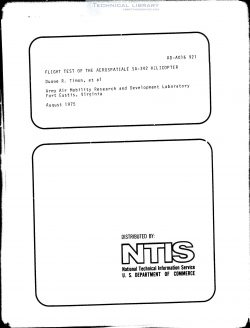 9. Flight tests were performed on the Model SA-342 helicopter to evaluate performance 
and handling qualities during hover, translational flight, forward flight, autorotative flight, 
and maneuvefing flight, Total power required, fan power required, and handling qualities 
were quantitatively and qualitatively evaluated. In brief summary: total power required for 
hovering turns in a 10•knot wind varied as much as 50 horsepower (37.3 kilowatts), depending 
on the direction of the wind; fan power required in hover was approximately 17 percent of 
total power required, with slightly less fan power required for OGE than for IGE hover; diffi- 
cuity was experienced in trimminq the aircraft within the sideslip deadband; directional 
damping was weak in hover; and directional instabilities were experienced while hovering 
in winds from the right. The Model SA•342 exhibited slightly improved static lateral- 
directional stability over the Model SA-341 as reported in reference 1, and the improved 
fan provided sufficient control moment to attain 50 knots in sideward flight.
10. Minimal performance testinq was conducted since the primary objective of the flight 
tests was to determine the handling qualities effects of configuration changes incorporated 
in the Model SA•342 helicopter. Engine torque was recorded, from which total power 
required was determined. Instrumentation for measuring fan thrust was not available, and 
fan drive shaft torque was recorded only during the last flight. Although it was desired to 
test at different rotor speeds, all tests were conducted at a constant rotor speed of 387 rpm 
and a fan speed of 6000 rpm due to the helicopter design characteristics. Hovering and 
low-speed power-required data were acquired at skid heights of 3 to 5 feet IGE and 75 to 
100 feet OGE under the conditions listed in Table 2. Low-speed data were acquired by 
following a pace car equipped with an anemometer. Due to the time constraints on the 
evaluation, it was not possible to acquire performance data in calm wind conditions. High 
altitude tests were performed during the one flight in which fan drive shaft torque 
instrumentation was installed, but due to uncertainty of wind direction and the rapidly 
changing wind velocities, the data were partially unusable. Pilot qualitative comments and 
some averaged quantitative data are discussed in paragraphs 17 and 36. Total power 
required for hovering turns in a 10•knot wind varied as much as 50 horsepower (37.3 
kilowatts), depending on the direction of the wind. Fan power required in hover was 
approximately 17 percent of total power required, and slightly less fan power was required 
for OGE than for IGE hover. In forward flight at 140 KIAS, fan power required was less 
than 5 horsepower (3.7 kilowatts).
| File | Action |
| --- | --- |
| USAAMRDL-TR-75-44 Flight Test of the Aerospatiale SA-342 Helicopter.pdf | Download |