NASA-SP-2000-4518
Version

4

Downloads

8.12 MB

File Size

1

File Count

May 10, 2017

Create Date

May 10, 2017

Last Updated
Hypersonics Before the Shuttle - A Concise History of the X-15 Research Airplane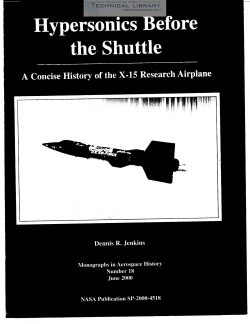 One important contribution of the X—15 program is the develop-
ment of a pilot-controlled flight-simulation device that has greatly
aided research. This device combines aerodynamics with an elec-
tronic computer so as to simulate any flight condition likely to be en-
countered by the X—15. With it, many of the unknowns of con-
trolling the X—'15 Were explored long before the first flight. The
results were somewhat surprising. The region of early concern,
control in space, was found to contain no serious problems. Yet
the time-honored criteria used to predict aircraft stability had failed
to uncover a major pitfall. The result: without some aid from
electronic control, the X--15 would be uncontrollable over a large
part of the anticipated flight envelope.
This major obstacle was overcome, but not without changes to the
airplane's tail surfaces and control system as well as to its stability
criteria. Analysis techniques were developed that helped explain
the phenomena. Significantly, automatic control came to be looked
upon not as a replacement fOr the pilot but as a useful, helpful, even
necessary aid, without which the full potential of the X—15 would
not have been achieved.
In addition to contributing to high-speed flight, the X—15 program
lowered a barrier at the low-speed end of the flight, for the subse-
quent landing. This landing was expected to be critical, since it
would require such precise judgment and control by the pilot that
he would have no margin for error. But techniques'were developed
that gave back to the pilot enough margin so that the landing is
now a routine maneuver. Pilots and aerodynamicists now plan with
confidence the landing of future airplanes that will have even more
extreme landing characteristics.
The X-15 pilots removed one earlier barrier, a psychological one.
When some scientists looked spaceward, they became concerned that
man himself would be the limiting factor. indeed, in the missile
dawn of the early 1950's, a large segment of the aeronautical industry
began to speculate that man might soon be relegated to pushing
buttons. No one working on the X—15 project agreed with this
view, least of all the pilots.
| File | Action |
| --- | --- |
| NASA-SP-2000-4518 Hypersonics Before the Shuttle - A Concise History of the X-15 Research Airplane.pdf | Download |