naca-wr-e-28
Version

39

Downloads

1.24 MB

File Size

1

File Count

April 15, 2017

Create Date

April 15, 2017

Last Updated
Single Cylinder Engine Tests of Porous Chrome Plated Cylinder Barrels with Special Bore Coatings for Radial Air-Cooled Engines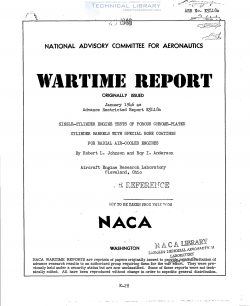 A series of single~cylinder engine tests was run to determine
the effect on oil consumption and ring wear of special surface
coatings in porous chrome—plated cylinder barrels for radial air—
cooled engines. The coating materials were selected on the basis
of bearing and lubrication properties and on the applicability of
the materials to processing. This work was necessitated by the
complications incurred in using standard flateface compression rings
in straight~bore porous chrome-plated cylinder barrels.
Straight—bore porous chrome—plated cylinder barrels coated wit
lead and silver ovsrplates and similar barrels painted with colloidal
graphite base paint were tested. Control tests were run with cylin-
ders having no coating. A choke~bore porous chrome-plated cylinder
barrel with a silver overplate was tested. Control tests with run
with similar cylinders having no overplate.
Silver proved to be the most effective surface coating; it
reduced the mean specific oil consumption and resulted in decreased
ring wear. A coating of colloidal graphite base paint had about the
same effect on the mean specific oil consumption and ring wear as the
silver overplate; however, this coating did not remain in the pores
on the thrust faces of the cylinder bore. Owing to a granular struc-
ture the lead plating was not of satisfactory quality and did not
decrease oil consumption, although it did reduce ring wear. The lead
apparently adversely affected the running—in properties of the assem—
bly, as indicated by the exceptionally high initial oil consumption.
The effectiveness of silver as a means of providing a filled
porosity was influenced by the catalytic action of the silver on the
oxidation of lubricating oil, which resulted in very heary deposits
of lacquer, varnish, or both on the plated surface. These engine
deposits serve to fill the pores very well and satisfactorily adhered
to the surface during engine operation. The silver, however, did not
completely adhere to plateau surfaces at scattered locations in the
cylinder tested.
| File | Action |
| --- | --- |
| naca-wr-e-28 Single Cylinder Engine Tests of Porous Chrome Plated Cylinder Barrels with Special Bore Coatings for.pdf | Download |