naca-tn-1093
Version

118

Downloads

870.70 KB

File Size

1

File Count

December 2, 2016

Create Date

December 2, 2016

Last Updated
National Advisory Committee for Aeronautics, Technical Notes - Effect of Sweepback and Aspect Ratio on Longitudinal Stability Characteristics of Wings at Low Speeds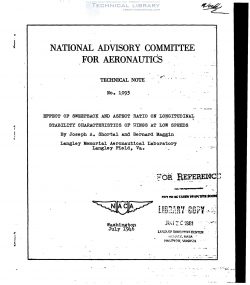 Because of the interest in swept-back wings for
high-speed airplanes an analysis has been made of
readily available data on the longitudinal stability
characteristics of swept-back wings at low speeds.
The analysis indicated that the shape of the pitching-
moment curve near the stall for swept-back wings is
greatly dependent upon the aspect ratio. A chart has
been prepared relating aspect ratio and sweepback that
indicates the combinations of aspect ratio and sweepback
necessary to obtain stability near the stall for wings
alone. The effect of the addition of a horizontal tail
behind a swept-back wing may be destabilizing and requires
further investigation.
The use of swept-back wings and tail surfaces on
airplanes has the distinct advantage of increasing the
critical Mach number of the surfaces. High degrees of
sweepback offer the possibility of flight at supersonic
speeds without serious compressibility effects. On the
other hand, sweepback has the disadvantage of introducing
additional stability problems at low airspeeds, particu-
larly at high angles of attack. One of these problems,
which was encountered previously with tailless airplanes
having swept-back wings at low speeds, is longitudinal
instability at the stall. In an attempt to isolate the
factors affecting this type of instability an analysis
has been made of readily available data on swept-back
wings for a range of sweepback angle from 0° to 80° and
for wide ranges of aspect ratio and taper ratio. "The
basic longitudinal stability characteristics for the
wings investigated are given in the present—paper along
with a chart summarizing the results of the investigations.
In addition, some data are given for combinations of
wings and horizontal tails to indicate the possible
influence of the horizontal tail on the pitching moments.
The effects of flaps are not considered and all the data
were obtained at relatively low Reynolds numbers and
Mach numbers.
| File | Action |
| --- | --- |
| naca-tn-1093 Effect of Sweepback and Aspect Ratio on Longitudinal Stability Characteristics of Wings at Low Speeds.pdf | Download |