naca-report-770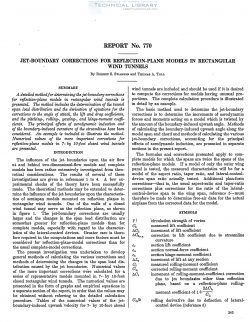 Version

125

Downloads

2.12 MB

File Size

1

File Count

August 30, 2016

Create Date

August 30, 2016

Last Updated
National Advisory Committee for Aeronautics, Report - Jet Boundary Corrections for Reflection Plate Models in Rectangular Wind Tunnels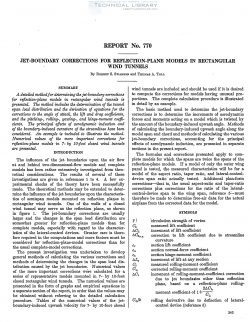 A detailed method for determining the jet-boundary corrections
for reflectim-plane models in rectangular wind tunnels is
presented. The method includes the determination of the tunnel
span load distribution and the derivation of equations for the
corrections to the angle of attack, the lift and drag coefiicients,
and the pitching-, rolling-, gaming-, and hinge-moment coeffi—
cients. The principal efiects of aerodynamic induction and
of the boundary-induced curvature of the streamlines have been
considered. An atample is included to illustrate the method.
Numerical values of the more important corrections for
reflection-plane models in '7- by 10-foot closed wind tunnels
are presented.
The influence of the jet boundaries upon the air flow
at and behind two—dimensional-flow models and complete
models has been rather extensively investigated from theo-
retical considerations. The results of several of these
investigations are given in references 1 to 4. A few ex-
perimental checks of the theory have been successfully
made. The theoretical methods may be extended to deter-
mine the influence of the jet boundaries upon the characteris-
tics of semispan models mounted on reflection planes in
rectangular wind tunnels. One of the walls of a closed
wind tunnel may serve as the reflection plane, as shown
in figure 1. The jet-boundary corrections are usually
larger and the changes in the span load distribution are
somewhat greater for reflection-plane models- than for
complete models, especially with regard to the character-
istics of the lateral-control devices. Greater care is there-
fore rcquired in the computations and more factors must be
considered for reflection-plane—model corrections than for
the usual complete—model corrections.
The present investigation was undertaken to develop
general methods of calculating the various'corrections and
methods of determining the changes in the span load dis-
tribution caused by the jet boundaries. Numerical values
of the more important corrections were calculated for a
series of representative models mounted in 7-4 by 10-foot
closed rectangular wind tunnels.
| File | Action |
| --- | --- |
| naca-report-770 Jet Boundary Corrections for Reflection Plate Models in Rectangular Wind Tunnels.pdf | Download |