naca-report-408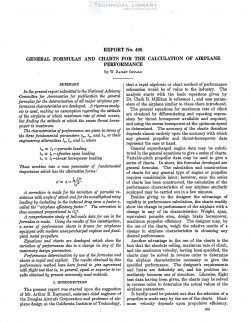 Version

21

Downloads

3.33 MB

File Size

1

File Count

August 26, 2016

Create Date

August 26, 2016

Last Updated
National Advisory Committee for Aeronautics, Report - General Formulas and Charts for the Calculation of Airplane Performance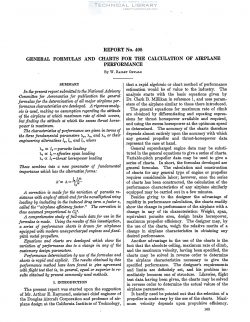 In the present report submitted to the National Advisory
Committee for Aeronautics for publication the general
formulas for the determination of all major airplane per-
formance characteristics are developed. A rigorous analy-
sis is used, making no assumption regarding the attitude
of the airplane at which maximum rate of climb occurs,
but finding the attitude at which the excess thrust horse-
power is maximum.
A correction is made for the variation of parasite re-
sistance with angle of attack and for the nonelliptical wing
loading by including in the induced drag term a factor e,
called the "airplane efiiciencyfactor." The correction is
thus assumed proportional to 01,".
A comprehensive study of full-scale data for use in the
formulas is made. Using the results of this investigation,
a series of performance charts is drawn for airplanes
equipped with modern unsupercharged engines and fixed-
pitch metal propellers.
Equations and charts are developed which show the
variation of performance due to a change in any of the
customary design parameters.
Performance determination by use of the formulas and
charts is rapid and explicit. The results obtained by this
performance method have been found to give agreement
with flight test that is, in general, equal or superior to re-
sults obtained by present commonly used methods.
The present report was started upon the suggestion
of Mr. Arthur E. Raymond, assistant chief engineer of
the Douglas Aircraft Corporation and professor of air-
plane design at the California Institute of Technology,
that a rapid algebraic or chart method of performance
estimation would be of value to the industry. The
analysis starts with the basic equations given by
Dr. Clark B. lVfillikan in reference 1, and uses param-
eters of the airplane similar to those there introduced.
| File | Action |
| --- | --- |
| naca-report-408 General Formulas and Charts for the Calculation of Airplane Performance.pdf | Download |