USAAMRDL-TR-75-59A
Download
| File | Action |
| --- | --- |
| USAAMRDL-TR-75-59A Investigation of Advanced Helicopter Structural Designs - Vol I - Advanced Structural Component Design Concepts Study.pdf | Download |
U.S. Army Air Mobility Research and Development Laboratory - Investigation of Advanced Helicopter Structural Designs - Vol I - Advanced Structural Component Design Concepts Study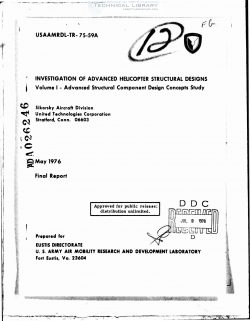 The objective of this study was to assess the advantage of advanced heli— 
copter structural concepts and materials for application in a medium— 
size utility transport helicopter. For the purpose of the study a base— 
line helicopter design was established using current !TTAS technolow. 
In the initial portion of the investigation, the advantages were deter— 
mined for an Advanced helicopter of the same desißl gross veight as that 
of the baseline. The resultant improvements vere reflected in cost , 
weight, and payload. fte initial investigation grouped the advanced 
concepts into two categories: 
lov cost and lov veight. The most prom— 
ising advanced concepts were then selected on the basis Of best pay— 
off in vei ght and cost, with fail—safety and safety considered as addi— 
tional primary factors, detectability, crashworthiness, vulnerability, 
reliability, and maintainability were considered secondary attributes. 
Having selected the most promising advanced design incorporating the ad— 
vanced concepts, the overall weight and cost comparison vas made VI th the 
basel ine conventional design. results were used to derive trending 
weight and cost data. These data were then processed in a Helicopter 
Design Wdel (HDM) computer program to find the results for a helicopter 
incorporating the advanced structural design, but maintaining the same pay— 
load as the baseline conventional helicopter. Each of the advanced designs 
vas then reviewed for risk and feasibility in future production.
The baseline desi"l vas established by using tJffAS technoloo• and 
investigating the configurations of internal volume requirements (for 
crew, itters, passengers, cargo volume, estimated fuel, transportability , 
and equipment) . Estimates vere then put into the Sikorsky—developed Hell— 
copter Deslgn Model (HDM) which is a computerized mathematical design model . 
The HDM output is the sizing, weights, and costs for the estimated configu— 
ration. The process is iterative, and the result is the baseline aircraft. 
A detailed description of the system design modeling ig presented in 
Appendix 'IA" of this report. 
Figure 1 is a three—viev drawing Of the baseline configuration. Driving 
factors in the configuration Vere litter and cargo space, air trans— 
portability. F"" air transportability, the main landing gear is a close— 
in des i "I. Only the horizc Ital zer and one blade Of the 
must be folded. 'me main rotor blades can be folded or removed. 
genr is designed for kneeling. 
Table 1 is the data sheet for the baseline conventional design, 
attributes and output of the HDM results. 
tail rotor 
The tail 
listing the