NASA-HDBK-8739.18
Download
| File | Action |
| --- | --- |
| NASA-HDBK-8739.18 Procedural Handbook for NASA Program and Project Management of Problems, Nonconformances, and Anomalies.pdf | Download |
Procedural Handbook for NASA Program and Project Management of Problems, Nonconformances, and Anomalies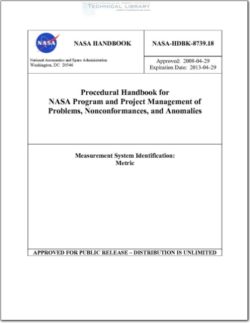 FOREWORD
This handbook provides basic guidance for the management and resolution of probiems,
nonconformances, and anomalies for a NASA program or project. Technical data management
as described herein includes elements of three of the seventeen process requirements outlined in
NPR 7123.1, NASA Systems Engineering Processes and Requirements: the technical data
management process, the technical assessment process, and the decision analysis process. For a
list of the documents containing requirements that the instructions herein are based upon, see
NPR 7323.1; NPD 8700.1, NASA Policy for Safety and Mission Success; NPR 8715.3, NASA
General Safety Program Requirements; NPR 7120.5C, NASA Program and Project Management
Processes and Requirements; NPD 8730.5, NASA Quaiity Assurance Policy Program; NPR
8735.2, Management of Government Quality Assurance Functions for NASA Contracts; and
NPR 7120.6, Lessons Learned Process. Compiete references can be found in Section 2.
This handbook applies to NASA Headquarters and NASA Centers, including Component
Facilities, and the Jet Propulsion Laboratory and service providers to the extent specified in their
contracts with NASA.
This handbook is intended for use specificaily by programs and projects that provide aerospace
products or capabilities, such as space and aeronautics systems, flight and ground systems,
technology demonstration, validation, and operations as specified within the respective program
or project planning and subsequent implementation requirements documentation.
Requests for information, corrections, or additions to this handbook shall be submitted via
"Feedback" in the NASA Technical Standards System at http://standards.nasa.gov. This
handbook was developed by the NASA Headquarters Office of Safety and Mission Assurance.