NASA-HDBK-1001
Download
| File | Action |
| --- | --- |
| NASA-HDBK-1001 Terrestrial Environment (Climatic) Criteria Handbook for Use in Aerospace Vehicle Development.PDF | Download |
Terrestrial Environment (Climatic) Criteria Handbook for Use in Aerospace Vehicle Development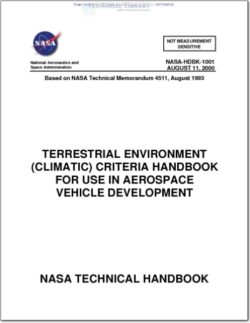 FOREWORD
This Handbook provides information relative to the natural environment for altitudes between 90
km and the surface of the Earth for the principal space vehicle development, operational, and
launch locations and associated local and worldwide geographical areas.
This Handbook, which supersedes all editions of TM 82473, and TM 4511, entitled "Terrestrial
Environment (Climatic) Criteria Guidelines for Use in Aerospace Vehicle Development" is
recommended for use in the development of design requirements/specifications for aerospace
vehicles and associated equipment.
The information presented in this Handbook is based on data and models considered to be
accurate. However, in those design applications which indicate a critical environment interface,
the user should consult an environmental specialist to ensure application of the most current
information and scientific-engineering interpretation.
Various NASA programs have provided resources required for the preparation of this document.
Major support came from NASA Headquarters Office of Safety and Mission Assurance (Code Q)
and Office of Space Flight (Code M).
A companion document, NASA TM-4527, "Natural Orbital Environment Guidelines for Use in
Aerospace Vehicle Development"was released as a June 1994 publication. It covers all natural
environmental guidelines at orbital altitudes within the Earth's thermosphere and exosphere.
That document, along with three other key documents (1) NASA TM-209630, "The NASA/MSFC
Global Reference Atmospheric Model — 1999 Version (GRAM-99)", (2) NASA CR-1998—208859,
"A Compendium of Wind Statistics and Models for the NA SA Space Shuttle and other Aerospace
Vehicle Programs", and (3) NASA TM-2000-210131, "Analysis and Assessment of Peak
Lightning Current Probabilities at the NASA Kennedy Space Center"have been included in this
Handbook as an update to the original NASA TM-4511, as published in August 1993.