NASA-CEH-APP-B
Download
| File | Action |
| --- | --- |
| NASA-CEH-APP-B Appendix B; Work Breakdown Structure (WBS).pdf | Download |
Appendix B; Work Breakdown Structure (WBS)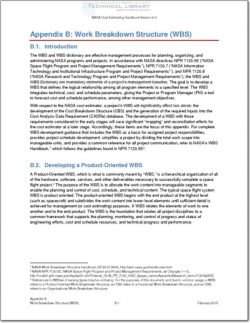 3.1. Introduction
The WBS and WBS dictionary are effective management processes for planning, organizing, and
administering NASA programs and projects. In accordance with NASA directives NPR 7120.5E ("NASA
Space Flight Program and Project Management Requirements"), NPR 7120.7 ("NASA Information
Technology and Institutional Infrastructure Program and Project Requirements'"), and NPR 7120.8
("NASA Research and Technology Program and Project Management Requirements"), the WBS and
WBS Dictionary are mandatory elements of a project's management baseline. The goal is to develop a
WBS that defines the logical relationship among all program elements to a specified level. The WBS
integrates technical, cost, and schedule parameters, giving the Project or Program Manager (PM) a tool
to forecast cost and schedule performance, among other management objectives.
With respect to the NASA cost estimator, a project's WBS will significantly affect two areas: the
development of the Cost Breakdown Structure (CBS) and the generation of the required inputs into the
Cost Analysis Data Requirement (CADRe) database. The development of a WBS with those
requirements considered in the early stages will save significant "mapping" and reconciliation efforts for
the cost estimator at a later stage. Accordingly, these items are the focus of this appendix. For complete
WBS development guidance that includes the WBS as a basis for assigned project responsibilities,
provides project schedule development, simplifies a project by dividing the total work scope into
manageable units, and provides a common reference for all project communication, refer to NASA's WBS
Handbook,1 which follows the guidelines found in NPR 7120.5E2.
3.2. Developing a Product-Oriented WBS
A Product-Oriented WBS, which is what is commonly meant by "WBS," is a hierarchical organization of all
of the hardware, software, services, and other deliverables necessary to successfully complete a space
flight project.3 The purpose of the WBS is to allocate the work content into manageable segments to
enable the planning and control of cost, schedule, and technical content. The typical space flight system
WBS is product oriented. The product-oriented WBS begins with the end product at the highest level
(such as spacecraft) and subdivides the work content into lower-level elements until sufficient detail is
achieved for management (or cost estimating) purposes. A WBS relates the elements of work to one
another and to the end product. The WBS is the foundation that relates all project disciplines to a
common framework that supports the planning, monitoring, and control of progress and status of
engineering efforts, cost and schedule resources, and technical progress and performance.