naca-tn-332
Download
| File | Action |
| --- | --- |
| naca-tn-332 Injection Lags in a Common Rail Fuel Injection System.pdf | Download |
National Advisory Committee for Aeronautics, Technical Notes - Injection Lags in a Common Rail Fuel Injection System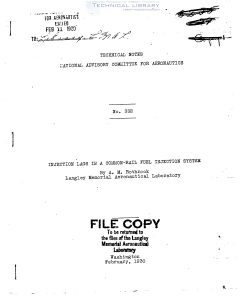 Injection lags were determined for a common—rail fuel in—
jection system for a compression—ignition engine. The system in—
vestigated consisted of a high—pressure reservoir, a timing
valve, an injection valve tube, and an.automatic injection valve.
The injection lag Was the time interval between the opening of
the timing valve and the start of the fuel spray from the auto—
matic injection valve. The range of the investigation included
tube lengths from 10 to .70 in., tube bores (from 1/16 to_5/38 in.,
valve opening pressures from 2000 to 5000 lb. per sq.in., injec—
tion pressures from 4000 to 10,000 lb. per sq.in., and initial
pressures from 1000 to 3800 lb. per sq.in. The investigation
was conducted at the Langley Memorial Aeronautical Laboratory,
Langley Field, Virginia.
It Was found that the injection lag increased linearly With
increase in injection tube length, but was not affected by the
bore of the tube. The lag increased slightly with an rncrease .
in valve opening pressure and decreased materially with an in— 5
crease in injection pressure. The initial pressure in the in—
jection valve tube before the opening of the timing valve did not
affect the injection lag, providing the injection pressure was
considerably in excess of the valve opening pressure.
Injection Legs in a Gommon~Rail Fuel Injection System
Common rail injection systems for compression—ignition en~
gines Can be divided into two classes. The first consists of
those in which the injection valve is mechanically Operated.
The second consists of those systems employing an automatic in—
jection valve to which the oil is released from the high pres—
sure reservoir by means of a mechanically operated timing valve.
In the second case there is an injection tube, often of consid~
erable length, between the timing valve and the injection valve;
There is a definite time inteIVal or injection lag, therefore,
between the opening of the timing valve and the start of the oil
spray from the fuel injection valve, This injection lag is
controlled by the design of the injection system and the oil
pressures employed in its operation. The injection lag of a
common—rail system operating from a constant source of pressure
is independent of the engine speed, providing the timing valve
operates with sufficient rapidity to permit uninterrupted oil
flow through it. For this reason, the results presented in this
report are given in seconds and not in crank degrees.