naca-tn-274
Download
| File | Action |
| --- | --- |
| naca-tn-274 The Effect of the Sperry Messenger Fuselage on the Air Flow at the Propeller Plane.pdf | Download |
National Advisory Committee for Aeronautics, Technical Notes - The Effect of the Sperry Messenger Fuselage on the Air Flow at the Propeller Plane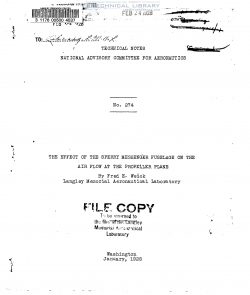 In order to study the effect of the fuselage, landing gear,
and engine on the air flow through the propeller, a survey was
made in the plane of the Sperry Messenger pr0peller with the pro~
peller removed. The tests were made in the 80—foot air stream
of the propeller research tunnel of the National Advisory Com—
mittee for Aeronautics at Langley Field, Virginia. The variation
of the velocity with distance from the center in the propeller
plane was found to be appreciable and well worth consideration
in the design of prepellers. It was also found that the velocity
through the propeller plane was affected by the presence of the
engine, and that the velocity in front of the landing gear was
lower than that at other points in the propeller plane having
the same radius.
Propellers as used on aircraft are usually mounted directly
in front of or behind a body of some kind. The presence of the
body influences the air flow through the propeller and consequent—
ly affects the horsepower absorbed by the propeller and the pro-
pulsive efficiency. In order to design a propeller having the
highest Obtainable efficiency for a given set_of conditions a
knowledge of the air flow through the propeller as affected by
the body is necessary. This effect has not been definitely known,
and has been a source of error in the design of prepellers.
Conshiering the air flow past an ordinary tractor fuselage
without the pr0peller in place, the velocity of the air at the
nose of the fuselage varies considerably with the radial distance
from the center of the nose. If the velocity at each radius is
known, each section of the prcpeiler can be designed for the ve—
locity at its particular radius.