naca-tn-1005
Download
| File | Action |
| --- | --- |
| naca-tn-1005 Correlation Between Strength Properties in Standard Test Specimens and Molded Phenolic Parts.pdf | Download |
National Advisory Committee for Aeronautics, Technical Notes - Correlation Between Strength Properties in Standard Test Specimens and Molded Phenolic Parts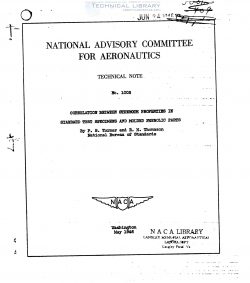 This report describes an investigation of the tensile.
flexural, and impact properties of 10 selected types of
phenolic molding materials. The materials were studied to
see in what ways and to what extent their properties satisfy
some assumptions on which the theory of strength of materials
is based: namely. (a) isotropy, (b) linear stress-strain re— m
lationship for small strains,and (c) homogeneity. The effect
of changing the dimensions of tensile and flexural specimens
and the span—depth ratio in flexural tests were studied.
The strengths of molded boxes and flexural specimens cut from
the boxes were compared with results of tests on standard
test specimens molded from the respective materials.
The nonuniformity of a material, which is indicated by
the coefficient of variation, affects the results of tests
made with specimens of different sizes and tests with differ—
ent methods of loading. The strength values were found to
depend on the relationship between size and shape of the molded
specimen and size and shape of the fillers. The most sig—
nificant variations observed within a diversified group
of materials werecfound to depend on the orientation of
fibrous fillers. 0f secondary importance was the dependence
of the variability of test results on the pieces of filler
incorporated into the molding powder as well as on the
size of the piece.
Static breaking strength tests on boxes molded from six
representative phenolic materials correlated well with falling-
ball impact tests on specimens cutrfrom molded flat sheets.
Good correlation was obtained with Izod impact tests on
standard test specimens prepared from the molding materials.
The static breaking strengths of the boxes do not correlate
with the results of tensile or flexural tests on standard
specimens.
No thorough investigation of the relationships between
the strengths of molded plastic articles and strength data
on their materials has been reported. Most of the available
data on the strength properties of molded phenolic plastics
have been obtained with standard test specimens and standard
methods of test. Specific data of this type, obtained in
accordance with test'methods established by the American in_
Society for Testing Materials, are published in manufacturers'
data books, for example, references 1 and 2. These sources
acknowledge that a "molding material, which on standard test
pieces appears superior, may show up in actual production as
being even inferior to another material which on standard test
pieces reveals a lower order of desirable properties" (ref—
erence 1). These discrepancies are further attributed to such
factors as peculiarities in mold design, size and shape of the
molded article, and variations in molding conditions, but not
to inherent differences in the materials or to selective
characteristics of the standard test specimens.