DOT-FAA-FS-160-65-68-1
Download
| File | Action |
| --- | --- |
| DOT-FAA-FS-160-65-68-1 Measurement of Runway Friction Characteristics on Wet, Icy or Snow Covered Runways.pdf | Download |
Measurement of Runway Friction Characteristics on Wet, Icy or Snow Covered Runways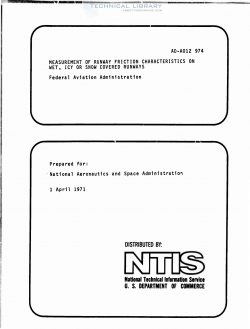 In the 1950 decade, with the advent of the turbojet trans- 
ports, increased attention began to focus on the effects of vet runways 
on aircraft stopping distances. The FAA and NASA began wrk early in the 
1960 decade to define the phenomena that cause reduced braking effect 
on vet Nnways. To date the FAA has issued Advisory Circular 91-6, 
Water, Slush and Snow on the January 1965; Advisory Circular 
121-12, Wet or Slippery mxnwayg, August 1967; and FAR 121.195(d) . 
Although FAR 121.195(b) already required that the measured dry runway 
landing distance not exceed of the available runway length, 
FAR 121.195(d) , effective January 15, 1966, specified an additional 15% 
increase in required Nnvay length for forecast wet or Blippery runway 
conditions. The preamble to amendment 121-9 pointed out, however, that 
these factors are not expected to cover all possible adverse conditions, 
and that hazardous runway conditions be controlled in accordance 
with FAR 121.551 and 121.553. A significant of runway surface 
friction data hag been accumzlated, some of which show promise of corre- 
lation with aircraft stopping distances on wet, icy or snow-covered 
It tiæly, therefore, for the Federal Aviation Administration 
runways . 
to available pertinent data for to the aviation industry.
General. During the years 1967—1968 a joint effort by the FAA, NASA, 
the United Kingdom, several State highway departments, and others was 
undertaken to assees the correlation existing amng braking friction 
data obtained by 21 special test vehicles, by the F-4D jet fighter 
and CV-990 jet transport, and by several methods of predicting aircraft 
stopping distances on n.rnways. Tests were conducted on nine 
different nxnway surfaces under wet, puddled and flooded pavement 
conditions. Results of these tests, reported in Reference a, showed 
that the current methods used for predicting aircraft stopping 
distances on wet runways vas Inadequate. During the years 1968-1969 
the FAA conducted a series of tests with the CV-880 jet transport 
and a James Brake Decelerometer to determine correlation under dry, wet, 
and 8 imalated icy runway conditions. Results, reported in Reference c , 
shoved poor correlation on damp and wet runways. From all of the 
test data accumalated to June I, 1970 three friction measurement 
devices emerge as having potential for use in conjunction with air 
carrier operations. these devices are: