DOT-FAA-CT-89-22
Download
| File | Action |
| --- | --- |
| DOT-FAA-CT-89-22 Aircraft Lightning Protection Handbook.pdf | Download |
Aircraft Lightning Protection Handbook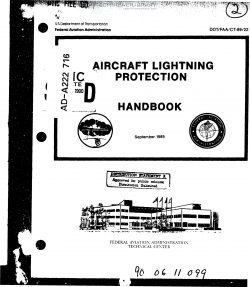 This handbook will assist aircraft design and cer- 
tification engineers in protecting aircraft against the 
direct and indirect effects of lightning strikes, in com. 
pliance with Federal Aviation Regulations pertaining 
to lightning protection. It is also intended 10 assist 
FAA certifying engineers in assessing the adequacy of 
proposed lightning protection designs. It will also be 
useful for designers of major subsystems, such en- 
gines and electrical and avionics systems, 
This is the second handbook of this type. The 
first such handbook, also entitled Lightning Protec- 
tion Of Aircraft by F.A. Fisher and J.A. Pltuner, was 
published in 1976 by the National Aeronautics and 
Space Administration as N4SA RP—1008. Since that 
book was published there have been major advances 
in protection techniques, standards and test practices, 
particularly in those dealing with the indirect electro- 
magnetic effects of lightning. 
This new handbook, which was commissioned by 
the FAA in 1986, was originally intended to be an up- 
dated version of NASA RP—1008, but as the project 
evolved, it became evident that additional topics, not 
included in the earlier book, should be incorporated 
and that much of the original material needed to be 
completely rewritten and expanded. 
The book is organized along the same general lines 
as the earlier work, with the first half dealing with 
the direct effects (burning and blasting) of lightning 
and the second half dealing with the indirect effects 
(electromagnetic induction of voltages and currents) 
of lightning.
Among the new material found in this book are 
two chapters dealing with basic technologies and phys- 
iCal concepts. The first of these, Chapter 1 - An Intro- 
duction to High Voltage Phenomena, deals with the 
nature of high voltage electrical sparks and arcs and 
with related processes of electric charge formation, ion- 
ization, and spark propagation in air. All of these are 
factors that affect the way that lightning leaders attach 
to an aircraft and the way that the hot return stroke 
arc affects the surface to which it attaches. The ma- 
terial introduce practices and terms for 
years in the electric power industry, but which are 
not commonly studied by those dealing with aircraft. 
Thoæ terms and practices have, however, affected the 
tests and practices used to evaluate the direct effects 
of lightning on aircraft.