ARMY-TM-11-6625-2883-13-HR
Download
| File | Action |
| --- | --- |
| ARMY-TM-11-6625-2883-13-HR Covering Contents of Components of End item (COEI) Basic Issue Items (BII), and Additional Authorization List (A.pdf | Download |
Covering Contents of Components of End item (COEI) Basic Issue Items (BII), and Additional Authorization List (AAL) for Test Set, Countermeasures TS-3609/ALQ-156(V)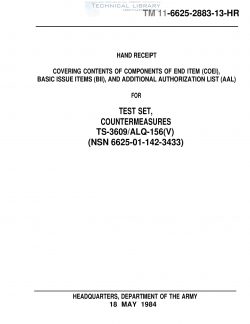 1. Scope 
This publication provides an overprinted DA Form 2062 (Hand Receipt) which lists the contents of Components of 
End Item (COEI), Basic Issue Items (Bll), and Additional Authorization List (AAL) items related to the Counter- 
measures Test Set 
2. General 
the overprinted DA Form 2062 which lists the line item entry for System/End Item and the content 
of COEI, 311, and AAL extracted from TMM$6625Z2883Z13JThe listings consist Of exactly the same items and are in 
the same sequence as those listings 
b. The overprinted DA Form 2062 will eliminate manual preparation Of the form and will assist organizations in 
inventorying and accounting for property as required by AR 710-2. 
c. Local reproduction of the overprinted DA Form 2062 is authorized. However, organizations shall comply with 
local policies in the reproduction Of DA Form 2062 by Office copying equipment, field printing plant, or duplicating 
plant facilities. 
d. Additional copies of this publication may be requisitioned from The US Army Adjutant General Publications 
Center, Baltimore, MD, in accordance with the procedure in Chapter 3, AR 310-2, and DA Pam 310-10-2. 
3. Explanation of Blocks and Columns (DA Form 2062) 
Refer to DA Pam 710-2-1 , Chapter 6. Additional information required to complete DA Form 2062 is 
a. From. Enter the organization for which the property book is maintained. 
b. TO. Enter the UIC and the hand receipt file number Of the unit/personnel receiving the property. 
c. Hand Receipt Number. Enter a locally designated number. Use it to post the location Of property in the proper- 
ty book . 
d. End Item Stock Number. Contains the National Stock Number (NSN) to the end item covered by the hand 
receipt. 
e. End Item Description. Contains the end item short title. 
f. Publication Number. Contains the TM number Of the technical manual containing the Operator/Crew instruc- 
tions for the equipment. 
g. Publication Date. Date Of the Operator/Crew TM. 
h. Quantity. Quantity Of the end item covered by this hand receipt.