AMCP-708-118
Download
| File | Action |
| --- | --- |
| AMCP-708-118 Engineering Design Handbook - Environmental Series; Part IV - Life Cycle Environments.pdf | Download |
Engineering Design Handbook - Environmental Series; Part IV - Life Cycle Environments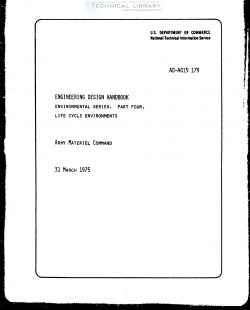 This handbook presents information on the 
environment to which Army materiel is 
subjected during its life cycle. It is directed to 
the materiel design engineer (l) to alert him 
to the multiplicity Of environmental effects 
on materiel. and (2) to provide him with 
sufficient information to identify specifie 
environmental etfects that require more 
extensive analysis. ne emphasis in the 
chapters that follow is on the totality of 
factors characterizing a climate. on the 
totality of effects experienced by classes of 
materiel. and on the totality of thetor 
combinations experienced in the life eyele 
separated into logistic and operational phases. 
nat the presentation is incomplete reneets 
on the limited uvuilubility of information on 
life cycle environments and on practical 
limitations on the recovery Of this informa- 
tion from diverse sources. 
ms handbook is Purt Four Of the 
Environmental *ties Of Engineering 
Handbooks. Part One. Basic Envbonmental 
Concepts, introduces the series. Parts Two 
und ntree provide extensive information on 
environmental' factors taken singly. and Part 
Five provides u glossary. Although this series 
is coordinated. each purt muy be employed 
separately. nere is. therefore, a desirable 
degree of overlap in the contents, although 
the objective Of each of the handbooks is 
distinct from the others. For exumple, a 
pervasive environmental factor may be dig- 
cussed for different purposes in a number of 
chapters; e.g.. temperature is the subject of 
One chapter in Part Two where it is treated as 
a distinct and is treated in other 
chapters in Parts Two and nree where its 
;tions with other factors are brought 
out.