NASA-RP-1228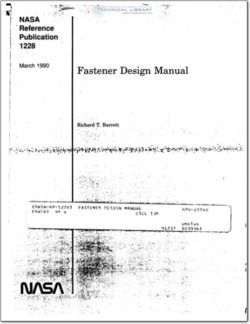 Version

787

Downloads

4.49 MB

File Size

1

File Count

March 1, 2016

Create Date

June 3, 2019

Last Updated
Fastener Design Manual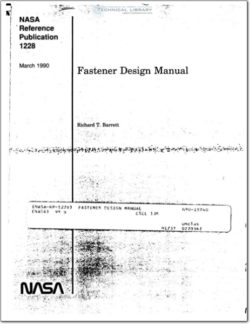 This manual was written for design engineers to enable them
to choose appropriate fasteners for their designs. Subject matter
includes fastener material selection, platings, lubricants,
corrosion, locking methods, washers, inserts, thread types and
classes, fatigue loading, and fastener torque. A section on
design criteria covers the derivation of torque formulas, loads
on a fastener group, combining simultaneous shear and tension
loads, pullout load for tapped holes, grip length, head styles,
and fastener strengths. The second half of this manual presents
general guidelines and selection criteria for rivets and
lockbolts.
To the casual observer the selection of bolts, nuts, and rivets
for a design should be a simple task. In reality it is a difficult
task, requiring careful consideration of temperature, corrosion,
vibration, fatigue, initial preload, and many other factors.
The intent of this manual is to present enough data on bolt
and rivet materials, finishes, torques, and thread lubricants
to enable a designer to make a sensible selection for a particular
design. Locknuts, washers, locking methods, inserts, rivets,
and tapped holes are also covered.
Bolts can be made from many materials, but most bolts are
made of carbon steel, alloy steel, or stainless steel. Stainless
steels include both iron- and nickel-based chromium alloys.
Titanium and aluminum bolts have limited usage, primarily
in the aerospace industry.
Carbon steel is the cheapest and most common bolt material.
Most hardware stores sell carbon steel bolts, which are usually
zinc plated to resist corrosion. The typical ultimate strength
of this bolt material is 55 ksi.
An alloy steel is a high-strength carbon steel that can be heat
treated up to 300 ksi. However, it is not corrosion resistant
and must therefore have some type of coating to protect it from
corrosion. Aerospace alloy steel fasteners are usually cadmium
plated for corrosion protection.
Bolts of stainless steel (CRES) are available in a variety of
alloys with ultimate strengths from 70 to 220 ksi. The major
advantage of using CRES is that it normally requires no
protective coating and has a wider service temperature range
than plain carbon or alloy steels.
| File | Action |
| --- | --- |
| NASA-RP-1228 Fastener Design Manual.pdf | Download |