NASA-GSFC-X-673-64-1F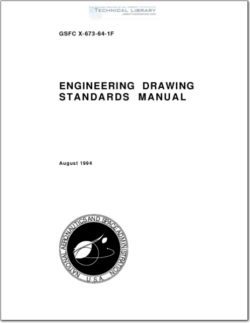 Version

127

Downloads

787.39 KB

File Size

1

File Count

March 30, 2016

Create Date

March 30, 2016

Last Updated
Goddard Space Flight Center (GSFC) Engineering Drawing Standards Manual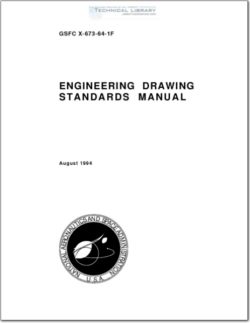 INTRODUCTION
This drawing standards manual establishes the conventions to be adhered to by
engineering and drafting personnel in the preparation, revision, and completion of
engineering drawings. This manual sets forth the minimum requirements acceptable at
GSFC for the preparation of engineering drawings for flight hardware and ground
support systems. The requirements specified herein are essential to the standardization
of practices and to a uniform interpretation of drawings.
A system, payload, or component assembly shall be completely defined by means of
drawings, including lists, schematics, wiring diagrams, and specifications, to ensure that
components fabricated are in accordance with the design. The documentation
information shall serve as a permanent record.
Flight hardware shall be fabricated in accordance with the approved design documents.
These documents shall reflect the characteristics and acceptance criteria for all
materials, component/parts, subsystems, and the complete system. The acceptance
criteria for parts and materials shall be specified by standard specifications when
applicable.
Engineering drawings are defined as those drawings that communicate the requirements
for the manufacture of the end-product items, their assembly, and their installation in the
end product.
The engineering drawings prepared by GSFC design personnel or contractors on GSFC
drawing format using GSFC drawing numbers shall be known as "Government Design
Activity Drawings." Parts made to these drawings typically would be manufactured
through the Fabrication Engineering Branch, Engineering Services Division, GSFC.
"Contractor Design Activity Drawings"""" (which are a company's drawings bearing the
company name, address, federal code identification, and drawing number) should be used
when the company is designing and delivering the finished product in accordance with
the terms of a NASA contract.
The Design Activity shall be defined as an activity having responsibility for the design
of an item or system. The activity may be a government entity, a contractor, a vendor, or
another organization such as a university.
Although generally in accordance with the Department of Defense and industry practices
and procedures, this drawing standards manual does contain specific differences and
exceptions to Engineering Drawing Practices, MIL-STD-lOOE. This manual, while not
intended as a manual of instruction in the basic principles of drafting, does set forth the
minimum requirements acceptable at the GSFC. One of those requirements is that
persons engaged in the preparation of drawings shall have a thorough understanding of
the fundamentals of drafting and geometrical dimensioning and tolerancing (in
accordance with ANSI Y14.5M-l982, Dimensioning and Tolerancing) in order to
produce interpretable drawings.
| File | Action |
| --- | --- |
| NASA-GSFC-X-673-64-1F Engineering Drawing Standards Manual.pdf | Download |