NASA-GSFC-STD-7000A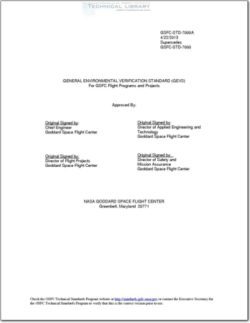 Version

159

Downloads

5.83 MB

File Size

1

File Count

May 14, 2016

Create Date

May 14, 2016

Last Updated
General Environmental Verification Standard (GEVS)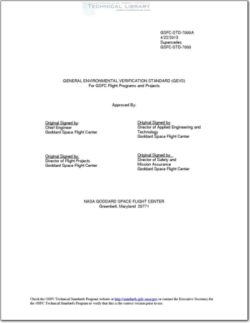 1.1 PURPOSE
This standard provides requirements and guidelines for environmental verification programs
for GSFC payloads, subsystems and components and describes methods for implementing
those requirements. It contains a baseline for demonstrating by test or analysis the
satisfactory performance of hardware in the expected mission environments, and that
minimum workmanship standards have been met. It elaborates on those requirements,
gives guideline test levels, provides guidance in the choice of test options, and describes
acceptable test and analytical methods for implementing the requirements.
This standard shall be used by GSFC projects and contractors. This standard shall be
tailored to create a project specific verification plan and verification specification as
discussed in section 2.1. GSFC projects must select from the options to fulfill the specific
payload (spacecraft) requirements in accordance with the launch vehicle to be used, Atlas,
Delta, Pegasus, etc., or to cover other mission-specific considerations.
1.2 APPLICABILITY AND LIMITATIONS
This standard applies to GSFC hardware and associated software that is to be launched on
an ELV. Hardware launched by balloons and sounding rockets is not included. The
specification applies to the following:
a. All space flight hardware, including interface hardware, that is developed as part of a
payload managed by GSFC, whether developed by (1) GSFC or any of its
contractors, (2) another NASA center, or (3) an independent agency; and
b. All space flight hardware, including interface hardware that is developed by GSFC or
any of its contractors and that is provided to another NASA installation or independent
agency as part of a payload that is not managed by GSFC.
The provisions herein are generally limited to the verification of ELV payloads and to those
activities (with emphasis on the environmental verification program) that are closely
associated with such verification, such as workmanship and functional testing.
The standard is written in accordance with the current GSFC practice of using a single
protoflight payload for both qualification testing and space flight (see definition of hardware,
1.8). The protoflight verification program, therefore, is given as the nominal test program.
1.3 THE GSFC VERIFICATION APPROACH
Goddard Space Flight Center endorses the full systems verification approach in which the
entire payload is tested or verified under conditions that simulate the flight operations and
flight environment as realistically as possible. The standard is written in accordance with
that view. However, it is recognized that there may be unavoidable exceptions, or conditions
which make it preferable to perform the verification activities at lower levels of assembly.
For example, testing at lower levels of assembly may be necessary to produce sufficient
environmentally induced stresses to uncover design and workmanship flaws. These test
requirements should be tailored for each specific space program. For some projects,
tailoring might relax the requirements in this standard; however, for other projects the
requirements may be made more stringent to demonstrate more robustness or greater
confidence in the system performance.
Check the GSFC Technical Standards Program website at http://standards.gsfc.nasa.gov or contact the Executive Secretary for
the GSFC Technical Standards Program to verify that this is the correct version prior to use.
| File | Action |
| --- | --- |
| NASA-GSFC-STD-7000A General Environmental Verification Standard (GEVS).pdf | Download |