naca-wr-l-487
Version

2

Downloads

1.48 MB

File Size

1

File Count

April 2, 2017

Create Date

April 2, 2017

Last Updated
Free Flight Tunnel Investigation of the Effect of the Fuselage Length and the Aspect Ratio and Size of the Vertical Tail on Lateral Stability and Control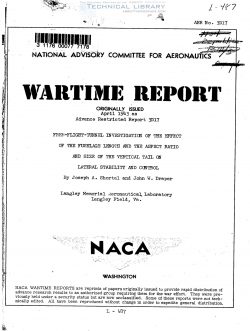 By Joseph A. Shortal-and John I. Draper
SUMMARY
Tests have been made in the NADA free-flight tunnel
to determine the effect of the fuselage length and the
aspect ratio and size of the vertical tail on lateral
stability and control. Fuselagee of. two different lengths
and various vertical tail surfaces were used on a powered
model in the investigation. Both flight and force tests
were made.
The tests indicated that a deficiency of tail area
could not be overcome by an increase in fuselage length
because the unstable moment of the fuselage as well as
the tail effectiveness increased directly with the tail
length. With a positive degree of directional stability.
howeverI an increase in tail'length provided increased
stability. An increase in the aspect ratio of the verti-
cal tail from 1.00-to"2.25 increased the.tail effective-
ness by 6? percent. Power had a stabilizing effect on
directional stability for single vertical tails; whereas
a destabilizing effect was observed for twin tails.
Dorsal fins improved the directional stability at large
angles of yaw.
INTRODUCTION
The demand for increased performance of pursuit air-
planes has made it imperative that-the tail surfaces be
restricted to the minimum areas required for satisfactory
directional stability and control. One possible means of
compensating for a reduction in tail size is to lengthen
the fuselage. In order-to provide data on the possible
reductions in tail area with an increased tail length.
tests have been made in the HAUL free-flight tunnel of
fuselages of two different lengths on a l/lO-soale,
dynamic, powered model of a typical pursuit airplane.
mhe long.fuselage incorpbrated some additional drag-
reducing features: The engine cowling was enlarged to
accommodate the auxiliary cooling ducts and the mean
line of the fuselage was modified. The nose of the fuselage
was extended somewhat to maintain the original location
of the center of gravity.
In the investigation. the lateral-stability and
lateral—control characteristics of the model in flight
in the tunnel were determined with both fuselage lengths
for four single vertical tails with two different areas
and two aspect ratios. Dorsal fins were added to two
of the tails. The flight tests were supplemented by
force tests on the six-component balance in the same
tunnel. In addition. force tests were made with a twin
tail having the same total area and the same aspect ratio
as the largest single tail.
| File | Action |
| --- | --- |
| naca-wr-l-487 Free Flight Tunnel Investigation of the Effect of the Fuselage Length and the Aspect Ratio and Size of the.pdf | Download |