naca-wr-e-35
Version

12

Downloads

913.61 KB

File Size

1

File Count

April 15, 2017

Create Date

April 15, 2017

Last Updated
The Effect of Piston Head Temperature on Knock-Limited Power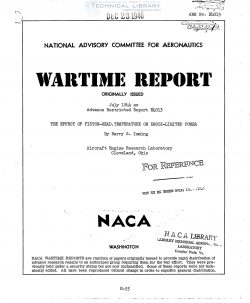 The effect of piston temperature on knock~limited power is part
of the general problem of the relation of engine temperature to
knock—limited performance. The problem is of interest from the
considerations of increasing knock—limited power and of correlating
fuel ratings on different engines.
Data on the effects of cylinder—head temperature have been
conducted by the Pratt & Whitney Aircraft Division and submitted
to the Coordinating Research Council. Tests on this phase of the
problem are also being conducted at the Aircraft Engine Research
laboratory of the NACA.
The tests reported herein were made on three fuels at three
sets of engine conditions to determine the effect of piston—head
temperature on knock—limited power. Because the data were obtained
from a small~scale (CFR) engine, the results are not directly appli—
cable to a full—scale aircraft engine and should therefore be con—
sidered in such an app ication on a qualitative rather than a
quantitative basis.
The work was conducted at the Aircraft Engine Research labora—
tory at Cleveland, Ohio. The data were obtained during the period
from January 26 to February 2, l9hh.
The tests were made on a high-speed, supercharged CFR engine
coupled to a loo—horsepower, direct—current, cradle—type dynamometer.
The engine was equipped with a sodium—cooled exhaust valve and a
cylinder with four spark—plug holes. Champion RJ—ll spark plugs
were used.
Knock was detected by a cathode—ray oscilloscope in conjunction
with a magnetostriction pickup unit. Oil and inlet—air temperatures
were measured with iron—constantan thermocouples and a self—balancing
potentiometer. Figures 1, 2, and 3 are schematic diagrams of the
fuel system, the inlet—air system, and the arrangement of spark plugs
and pickup unit in the cylinder, respectively.
Figure h is a drawing of the liquid—cooled piston that provided
the means for varying the piston temperature. In operation, cooling
oil passed continuously from the hollow crankshaft (jets removed),
through the drilled connecting rod and the wrist pin, and thence
through the piston oil passages to the crown. After traversing the
spiralled groove in the piston crown, the oil passed through the
outlet hole and back into the crankcase. When piston cooling was
not desired, a standard (not drilled) CFR wrist pin was installed
in the same piston without removing the ring band from the cylinder.
| File | Action |
| --- | --- |
| naca-wr-e-35 The Effect of Piston Head Temperature on Knock-Limited Power.pdf | Download |