naca-wr-e-33
Version

18

Downloads

1.48 MB

File Size

1

File Count

April 15, 2017

Create Date

April 15, 2017

Last Updated
Knock Limited Performance of Pure Hydrocarbons Blended with a Base Fuel in a Full-Scale Aircraft Engine Cylinder - I - Eight Paraffins, Two Olefins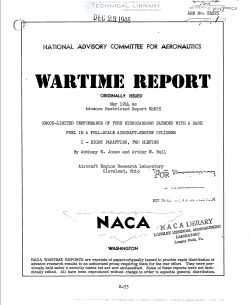 Under the sponsorship of the NACA the Bureau of Standards is
synthesizing to a high degree of purity various hydrocarbons for
knock—testing in a full~scale aircraft—engine cylinder. Samples of
these hydrocarbons are also submitted to the Ethyl Corporation for
tests in the 17.6 engine and, where the quantity of supply permits,
to the General Motors Corporation Research Laboratories for tests
in the General Motors engine. In each of these two cases, the
engine conditions are those used in research sponsored by the
American Petroleum Institute Hydrocarbon Research Project on the
knocking characteristics of pure hydrocarbons. The results obtained
by both of these laboratories are available in the reports of the
American Petroleum Institute.
Sufficient supplies of 10 of the hydrocarbons prepared by the
Bureau of Standards have recently been submitted to the NACA for
tests (in which the hydrocarbons are blended in a base fuel) in an
R—1820 6200 cylinder operating under test conditions tentatively
standardized by the Coordinating Research Council.
It is the purpose of this report to present the results of
these tests. The tests were conducted at the Aircraft Engine Research
Laboratory of the National Advisory Committee for Aeronautics during
November and December 19h3.
Preliminary investigations were made by the staff of the Fuel
Synthesis Section, Fuels and Lubricants Division, of AERL to deter—
mine the peroxide number of the samples; U.0.P. Method No. H—35~h0
was followed. Tests of two samples of 2,h,h—trimethyl—2—pentene
showed them to have peroxide numbers of 6.7 and 5.9. The peroxide
number of the 2,h,h—trimethyl-2—pentene was reduced to 0.1 by
passing it twice through a florite drying column. Because this
process removed some of the tetraethyl lead and the inhibitor, the
compound was then leaded and inhibited to correspond to the original
samples as received from the National Bureau of Standards
| File | Action |
| --- | --- |
| naca-wr-e-33 Knock Limited Performance of Pure Hydrocarbons Blended with a Base Fuel in a Full-Scale.pdf | Download |