naca-wr-a-11
Version

30

Downloads

1.76 MB

File Size

1

File Count

April 15, 2017

Create Date

April 15, 2017

Last Updated
Computation of Hinge Moment Characteristics of Horizontal Tails from Section Data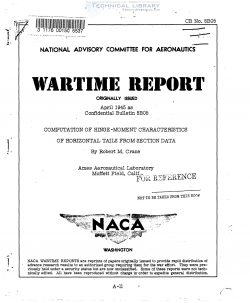 A study of data from various wind—tunnel tests of hori—
zontal tail surfaces was made to determine the accuracy with
which section data can be used to estimate the hinge—moment
characteristics of control surfaces of finite span. The study
consisted of a comparison between the variation of elevator
hinge moments with elevator deflection and with airplane pitch—
ing moment, as estimated from data obtained in two—dimensional
flow, and that variation measured emperimentally on 16 differ—
ent horizontal tails mounted on wind—tunnel models of complete
airplanes. The method used in applying section data to the
evaluation of three—dimensional characteristics is outlined,
and summary curves showing the variation of the major param—
eters with control—surface chord, balance chord, and trailing—
edge angle are presented. It is demonstrated that the three—
dimensional hinge—moment characteristics of tail surfaces can
be derived from existing section data with an accuracy which
is within the tolerance required in preliminary design,
Considerable data on the characteristics of large—chord
flaps have been obtained (references 1 to 11), which establish
the effect of the major variables (flap chord, balance chord,
nose shape, nose gap, etc') on the section aerodynamic charac—
teristics of airfoils. The question has arisen on occasion,
as to the degree of accuracy with which these data can be
applied to the estimation of the characteristics of control
surfaces in threeadimensional flow. This question is partic—
ularly pertinent as applied to the horizontal or vertical
tail surfaces of complete airplanes, since these surfaces
(as distinguished from ailerons) are subjected to mutual
interferences, fuselage interference, and are of relatively
low aspect ratio, so that the differences caused by these
"secondary" effects might be so large as to preclude the
use of section data for anything but the most approximate
detimates.
In order to shed some light on this problem, the en—
pcrimentally measured hinge~moment and pitching—moment chan-
acteristics of 16 different horizontal tail surfaces mounted
on Complete airplane models have been compiled and are com—
pared with characteristics estimated from data obtained in
two~dimensional flow. This study has taken the form of the
comparison of hinge—moment characteristics as defined by
the variation of elevator hinge moments with elevator angle,
with tail angle of attack, and with airplane pitching moments.
The types of aerodynamic belancn'ocnsidered in the present
investigation include internally scaled nose balance and un—
shrouded nose overhang balance.
| File | Action |
| --- | --- |
| naca-wr-a-11 Computation of Hinge Moment Characteristics of Horizontal Tails from Section Data.pdf | Download |