NACA-TN-4402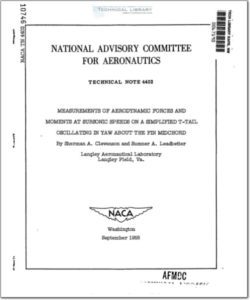 Version

142

Downloads

983.68 KB

File Size

1

File Count

March 24, 2016

Create Date

March 24, 2016

Last Updated
National Advisory Committee for Aeronautics, Technical Notes - Measurements of Aerodynamic Forces and Moments at Subsonic Speeds on a Simplified T-Tail Oscillating in Yaw About the Fin Midchord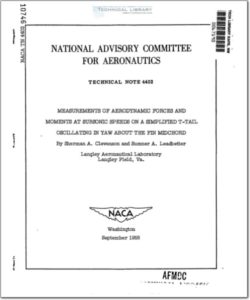 Results are presented of some experimental measurements of aero-
dynamic forces and moments acting on a simplified T—tail configuration
which is oscillating in yaw about an axis through the midchord of the
vertical fin. Coefficients which define rolling moment of the hori-
zontal stabilizer alone and rolling moment, yawing moment, and side force
of the complete T—tail are shown. In the investigation the range of
reduced-frequency parameter was from 0.09 to 0.56, the mach number
range was from.0.13 to 0.50, and the Reynolds number range was from
0.90 x 106 to 8.21 x 106.
Coefficients for the steady case (reduced—frequency parameter of
zero) were calculated for the forces and moments and good agreement was
indicated.for all except the horizontal—stabilizer rolling-moment coeffi-
cient which was found to be of greater magnitude than was indicated by
the steady-state results. Some fUrther comparisons were made of the
side-force and yawing moment on the complete T-tail with results obtained
from a previous investigation for a configuration consisting of a tip tank
mounted on a plan form similar to the T-tail fin alone and were found to
be compatible.
The use of T—tail configurations on some present-day aircraft has
introduced the problem of determining values to be assigned the aero-
dynamic forces and moments associated with the yawing oscillations of
the components of the configuration. Some measurements of the aero-
dynamic forces and pressures acting on a T—tail configuration have been
made for the steady-flow condition (for example, refs. 1 and 2), but
there is a paucity of data, both analytical and experimental, for the
unsteady—flow condition. As a result of the scarcity of information,
the validity of a flutter analysis for a T— tail configuration may be
subject to question. In particular, little is known about the magnitude
and phase angle of the oscillatory rolling moment acting on the hori—
zontal stabilizer. In order to further the knowledge of the unsteady
aerodynamic forces on T-tails, a limited investigation has been made of
the aerodynamic forces- and moments associated with the yawing oscillations
of a simplified T-tail which consists of a low-aspectnratio fin having
a horizontal stabilizer at its tip.
| File | Action |
| --- | --- |
| National Advisory Committee for Aeronautics, Technical Notes - naca-tn-4402 Measurements of Aerodynamic Forces and Moments at Subsonic Speeds on a Simplified T-Tail Oscillating in Yaw About the Fin Midchord.pdf | Download |