naca-rm-a55i09
Version

14

Downloads

1.72 MB

File Size

1

File Count

October 17, 2017

Create Date

October 17, 2017

Last Updated
National Advisory Committee for Aeronautics, Research Memorandum - Full Scale Wind Tunnel Tests of a 35° Sweptback Wing with High Velocity Blowing Over the Trailing Edge Flaps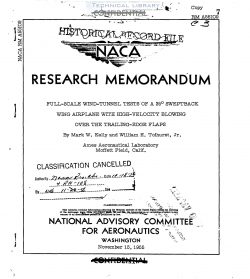 A wind-tunnel investigation was made to determine the effects of
ejecting high-velocity air near the leading edge of plain trailing-edge
flaps on a 350 sweptback wing. The tests were made with flap deflections
from #50 to 850 and with pressure ratios across the flap nozzles from sub-
critical up to 2.9- A limited study of the effects of nozzle location and
configuration on the efficiency of the flap was made. Measurements of the
lift, drag, and _pitching moment were made for Reynolds numbers from 5. 8 to
10.1x105. Measurements were also made of the weight rate of flow, pres—
sure, and temperature of the air supplied to the flap nozzles.
The results showed.that blowing on the deflected flap produced large
flap lift increments. The amount of air required to prevent flow separa-
tion on the flap was significantly less than that estimated from published
two-dimensional data. When the amount of air ejected over the flap was
just sufficient to prevent flow separation, the lift increment obtained
agreed.well with linear inviscid fluid theory up to flap deflections of
60°. The flap lift increment at 85° flap deflection was about 80 percent
of that predicted theoretically. With larger amounts of air blown over
the flap, these lift increments could be significantly increased. It was
found that the performance of the flap was relatively insensitive to the
location of the flap nozzle, to spacers in the nozzle, and to flow disturb-
ances such as those caused by leading-edge slats or discontinuities on the
wing or flap surface.
Analysis of the results indicated that installation of this system
on an F—86 airplane is feasible.
The trends of high-speeduairplane design to high wing loadings and
to configurations having lOW'maximum usable lift coefficients have resulted
in renewed interest in the application of boundary-layer. control to attain
high lift. Particular. interest has been directed.toward the application
of boundary-layer control at the wing leading edge to delay the stall to
higher angles of attack (ref. 1) and to the use of boundary- layer control
on trailing-edge flaps to provide high lifts at low angles of attack
(ref. 2). Two methods of applying boundary-layer control to trailing-edge
flaps have.been developed Sufficiently to be considered for application to
production aircraft. One method utilizes suction through_a porous area
near the flap leading edge, while the other utilizes a high-velocity air
Jet directed over the flap upper surface. 'These two installations are
usually referred to as the area-suction flap and the blowing flap,
respectively.
| File | Action |
| --- | --- |
| naca-rm-a55i09 Full Scale Wind Tunnel Tests of a 35° Sweptback Wing with High Velocity Blowing Over the Trailing Edge Flaps.pdf | Download |