naca-report-837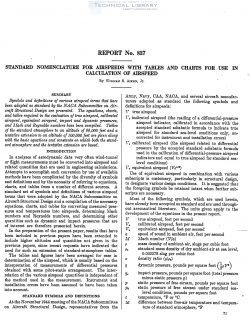 Version

23

Downloads

1.61 MB

File Size

1

File Count

August 31, 2016

Create Date

August 31, 2016

Last Updated
National Advisory Committee for Aeronautics, Report - Standard Nomenclature for Airspeeds with Tables and Charts for Use in Calculation of Airspeed
Symbols and definitions of various airspeed terms that hare
been adopted as standard by the NAOA Subcommittee on. Air-
craft Structural Design are presented. The equations, charts,
and tables required in the evaluation. of true airspeed, calibrated
airspeed, equivalent airspeed, impact and dynamic pressures,
and flfach and Reynolds numbers hare been compiled. Tables
of the standard atmosphere to an. altitude of 65,000 feet and a
tentatii'e extension to an altitude of 100,000 feet are given along
with the basic equations and constants on. which. both the stand-
ard atmosphere and the tentative extension are based.
In analyses of aerodynamic data very often Wind-tunnel
or flight measurements must be converted into airspeed and
related quantities that are used in engineering calculations.
Attempts to accomplish such conversion by use of available
methods have been complicated by the diversity of symbols
and definitions and by the necessity of referring to equations,
charts, and tables from a number of difi'erent sources. A
standard set of symbols and definitions of various airspeed
terms that were adopted by the NACA Subcommittee on
Aircraft Structural Design and a compilation of the necessary
equations, charts, and tables for converting measured pres-
sures and temperatures into airspeeds, determining Mach
numbers and Reynolds numbers, and determining other
quantities such as dynamic and impact pressures that are
of interest are therefore presented herein.
In the preparation of the present paper, results that have
been included in previous papers have been extended to
include higher altitudes and quantities not given in the
previous papers, since recent requests have indicated the
need for such an extension of standard-atmosphere tables.
The tables and figures have been arranged for ease in
determination of the airspeed, which is usually based on the
interpretation of measurements of differential pressures
obtained with some pitot-static arrangement. The inter-
relation of the various airspeed quantities is independent of
the method used in the measurement. Instrument and
installation errors have been assumed to have been taken
into account.
| File | Action |
| --- | --- |
| naca-report-837 Standard Nomenclature for Airspeeds with Tables and Charts for Use in Calculation of Airspeed.pdf | Download |