naca-report-1108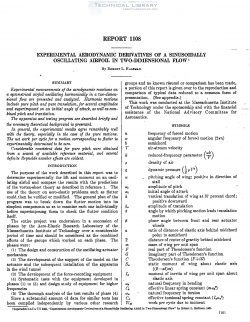 Version

114

Downloads

3.53 MB

File Size

1

File Count

September 7, 2016

Create Date

September 7, 2016

Last Updated
National Advisory Committee for Aeronautics, Report - Experimental Aerodynamic Derivatives of a Sinusoidally Oscillating Airfoil in Two Dimensional
Experimental measurements of the aerodynamic reactions on
a symmetrical airfoil oscillating harmonieally in a tum-dimenr
s-ional flow are presented and analyzed. Harmonic motions
include pure pitch and pure translation, for sereral amplitudes
and superimposed on an initial angle of attack, as well as com—
bined pitch and translation.
The apparatus and testing program are described briefly and
the necessary theoretical background is presented.
In general, the erperimental results agree remarkably well
with the theory. especially in the case of the pure motions.
The net work per cycle for a motion corresponding to flatter is
experimentally determined to be zero.
Considerable consistent data for pure pitch were obtained
from a search of available reference material, and several
definite Reynolds number ejects are evident.
The purpose of the work described in this report was to
determine experimentally the lift and moment on an oscil—
lating airfoil and compare the results with the predictions
of the vortex-sheet theory as described in reference 1. The
use of the theory on aero-elastic problems such as flutter
couldthen be verified or modified. The general plan of the
program was to break down the flutter motion into its
simplest components so as to examine each one individually
before superimposing them to check the flutter condition
itself.
The mechanical apparatus is designed to oscillate an
airfoil in pure pit-ch, pure translation, and combinations
of the two at various frequencies and amplitudes The
installation in the test section of the tunnel is shown in
figure 1 and the entire oscillator mechanism is illustrated
schematically in figure 2. The range of motions obtainable
is shown in figure 3.
The airfoil which was constructed for these tests is
rectangular in plan form with a 1-foot chord, 2-foot span, '
and NACA 0012 profile. An extremely rigid and light
magnesium two-spar stressed-skin construction was neces- .
sary to minimize inertia loads and prevent appreciable de-
flection during oscillation. The tests were performed in the
M. I. T. 5- by "Hoot flutter tunnel which was modified by
the installation of two vertical fairings as shown in figure 1.
The presence of these fairings insured essentially two—
dimensional flow over the airfoil While any deviations from
the usual flow could be detected by the pitot—tube rake'
installation also shown in figure 1.
| File | Action |
| --- | --- |
| naca-report-1108 Experimental Aerodynamic Derivatives of a Sinusoidally Oscillating Airfoil in Two Dimensional Flow.pdf | Download |