naca-report-1107
Version

121

Downloads

2.81 MB

File Size

1

File Count

September 7, 2016

Create Date

September 7, 2016

Last Updated
National Advisory Committee for Aeronautics, Report - An Empirically Derived Basis for Calculating the Area, Rate, and Distribution of Water Drop Impingement on Airfoils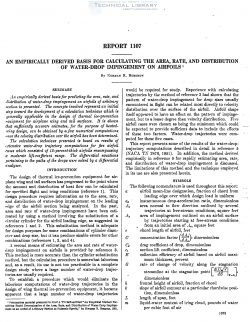 An empirically derired basis for predicting the area, rate, and
distribution of water-drop impingement on airfoils of arbitrary
section is presented. The concepts inroli'ed represent an initial
step toward the derelopment of a calculation technique which is
generally applicable in the design of thermal ice-prere-ntio-n
"raipment for airplane wing and tail surfaces. It is shown
that sufficiently accurate esitmates, for the purpose of heated-
im'ng design, can be obtained by aj'ew numerical computations,
once the relociry distribution orer the airfoil has been' determined.
The calculation technique presented is based on results of
crtensire water—drop trajectory computations for fire airfoil
cases which consisted of 15-percent—thiclr airfofls encompassing
a moderate lift-coeficient range. The difierential equations
pertaining to the paths of the drops were seized by a difl'erential
analyzer.
The design of thermal ice-prevention equipment for air—
plane wing and tail surfaces has progressed to the point where
the amount and distribution of heat flow can be calculated
for specified flight and icing conditions (reference 1). This
design procedure requires information as to the area, rate,
and distribution of water-drop impingement on the leading
edge of the airfoil section being analyzed. In the past,
area and rate of water-drop impingement have been esti-
mated by using a method involving the substitution of a
circular cylinder for the airfoil leading edge, as suggested in
references 1 and 2. This substitution method is adequate
for design purposes for some combinations of cylinder diam-
eter and drop size, but it'can produce sizable errors for other
combinations (references 1, 3, and 4).
A second means of estimating the area and rate of water-
drop impingement on airfoils is provided' by reference 3.
This method is more accurate than the cylinder substitution
method, but the calculation procedure is somewhat laborious
and. as a result, its use is not too practicable in a complete
design study where a large number of water-drop trajec-
tories are usually required.
| File | Action |
| --- | --- |
| naca-report-1107 An Empirically Derived Basis for Calculating the Area, Rate, and Distribution of Water Drop Impingement on Airfoils.pdf | Download |