DOT-FAA-AR-99-XX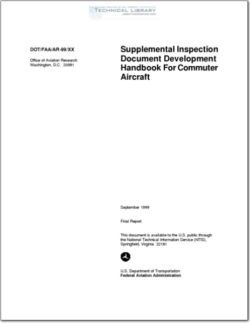 Version

162

Downloads

2.95 MB

File Size

1

File Count

March 24, 2016

Create Date

March 24, 2016

Last Updated
Supplemental Inspection Document Development for Commuter Aircraft - 01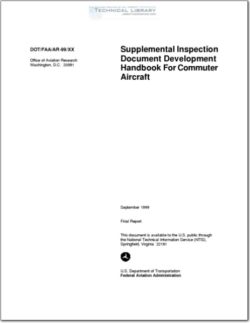 This document is the final report covering the results of a one-year program. This
program was funded through the Federal Aviation Administration (FAA) William J.
Hughes Technical Center at Atlantic City International Airport under FAA contract
number DTFAO3-98—C-00032. The program focused on developing a Supplemental
Inspection Document Handbook. Airframe manufacturers and other engineering
organizations can use the handbook to assure the continued ainNorthiness of commuter
aircraft.
This effort was a follow on task of a previous contract. The previous contract (FAA
contract number DTFA03-95-C-OOO44) provided the government with a methodology
document and Supplemental Inspection Document (SID) for the Cessna 402 based on
damage tolerance analysis.
This document utilizes the knowledge and experience gained during the execution of
the previous contract to generate a "SID Handbook." This comprehensive handbook
provides a manufacturer or other engineering organization with the requirements for
developing a damage tolerant SID of a commuter aircraft. This handbook contains
everything, either directly or by reference, that a small commuter sized airplane
company would need to develop a SID. The technical issues to be resolved, sources of
critical engineering data and the procedures to develop data are described in this
document.
| File | Action |
| --- | --- |
| DOT-FAA-AR-99-XX SIDD for Commuter Aircraft - 01.pdf | Download |