AGARD-AR-355
Version

121

Downloads

24.39 MB

File Size

1

File Count

April 25, 2016

Create Date

April 25, 2016

Last Updated
CFD Validation for Propulsion System Components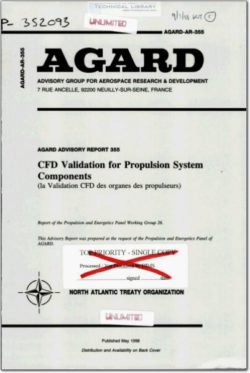 Computational methods for the design and analysis of
turbomachine flows have been developed and brought into use
progressively over the last fifty years. The coming of large
modern computers in recent years has allowed the practical
development of codes which solve the Reynolds-averaged
Navier-Stokes (RANS) equations in three dimensions. Such
codes are already used by the large engine manufacturers for
the advanced design of some engine components like
compressors, turbines, air intakes, nozzles, and combustion
chambers. Notable improvements have already been obtained;
nevertheless the physical representation of real phenomena is
not yet completely satisfactory, and only comparative
predictions can be seriously considered.
Different computational fluid dynamics (CFD) approaches and
turbulence models exist, and it seems essential today to
establish their degree of validity for application to typical
configurations in turbomachinery. Obviously, the different
CFD code users make their own evaluation, but that remains
limited. To make a real improvement in knowledge of the
influence of the different elements of a CFD code (numerical
algorithm, type and density of mesh, turbulence model, ...) on
the results it is necessary to compare computations from
different codes. This very important work can only be done in
an international field; it fits AGARD's objectives perfectly.
PEP has regularly organised meetings, Lecture Series, or
Working Groups on turbomachinery flow prediction methods.
In 1976, Lecture Series 83 was held (Serovy, 1976), and also a
Specialist Meeting in which predictions for a set of test cases
were invited (AGARD, 1976). Subsequently, PEP-WG 12 was
set up to review through-flow calculation methods, which
- reported in 1981 (Hirsch and Denton, 1981); it also employed
test cases. In 1985, a Lecture Series on the emerging three-
dimensional flow computation methods applied to
turbomachines was presented (G.Meauzé, 1985). Following
that, PEP-WG 18 was set up to assemble another new group of
test cases, published in 1990 (Fottner, 1990). A Symposium on
CFD techniques for propulsion applications was held by the
Propulsion and Energetics Panel in Spring 1991 (AGARD,
1991). In his Technical Evaluation Report, Dr L.A.Povinelli
recommended that a new activity should be started aimed at
code validation. Other similar recommendations had also been
made to the Panel, and following discussions, it was agreed to
form Working Group 26: "CFD validation for propulsion
system components". This was approved by the National
Delegates' Board in Fall 1993, for starting in 1994. The topic
falls within the specific recommendations of AGARD
concerning improved engine design (flexibility), improved
affordability, and improved hardware and software reliability.
| File | Action |
| --- | --- |
| AGARD-AR-355 CFD Validation for Propulsion System Components.pdf | Download |