NASA-GPG-Parts
Download
| File | Action |
| --- | --- |
| NASA-GPG-Parts GSFC EEE Parts Policy.pdf | Download |
GSFC EEE Parts Policy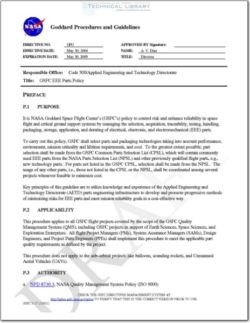 PREFACE
P.1 PURPOSE
It is NASA Goddard Space Flight Center's (GSFC'S) policy to control risk and enhance reliability in space
flight and critical ground support systems by managing the selection, acquisition, traceability, testing, handling,
packaging, storage, application, and derating of electrical, electronic, and electromechanical (EEE) parts.
To carry out this policy, GSFC shall select parts and packaging technologies taking into account performance,
environment, mission criticality and lifetime requirements, and cost. To the greatest extent possible, part
selection shall be made from the GSFC Common Parts Selection List (CPSL), which will contain commonly
used EEE parts from the NASA Parts Selection List (NPSL) and other previously qualified flight parts, e. g.,
new technology parts. For parts not listed in the GSFC CPSL, selection shall be made from the NPSL. The
usage of any other parts, i.e., those not listed in the CPSL or the NPSL, shall be coordinated among several
projects whenever feasible to minimize cost.
Key principles of this guideline are to utilize knowledge and experience of the Applied Engineering and
Technology Directorate (AETD) parts engineering infrastructure to develop and promote progressive methods
of minimizing risks for EEE parts and meet mission reliability goals in a cost- effective way.
P.2 APPLICABILITY
This procedure applies to all GSFC flight projects covered by the scope of the GSF C Quality
Management System (QMS), including GSFC projects in support of Earth Sciences, Space Sciences, and
Exploration Enterprises. All flight Project Managers (PMs), System Assurance Managers (SAMs), Design
Engineers, and Project Parts Engineers (PPES) shall implement this procedure to meet the applicable part
quality requirements as defined by the project.
This procedure does not apply to the sub-orbital projects like balloons, sounding rockets, and Unmanned
Aerial Vehicles (UAVs).