NASA ER2
Download
| File | Action |
| --- | --- |
| NASA-ER2-Airborne-Laboratory-Experimenter_Handbook.pdf | Download |
Airborne Laboratory Experimenter Handbook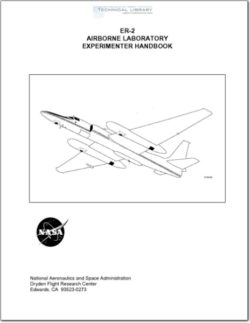 The Lockheed ER-2 was developed for the National Aeronautics and Space
Administration (NASA), to serve as a high altitude scientific research aircraft. The
ER-2 has been utilized to conduct scientific studies of stratospheric and tropo-
spheric chemistry, land-use mapping, disaster assessment, and preliminary test-
ing of satellite sensors. These two aircraft, outfitted as flying laboratories, are
based at Dryden Flight Research Center (DFRC); Edwards, California. Missions
may be flown out of DFRC or from remote bases worldwide, according to the
research requirements.
Powered by a single jet engine, the ER-2 carries a single pilot and up to 2,550 lb
(1,156 kg) of payload to altitudes approaching 70,000 ft (21 km). Typical ER-2
missions last 6.5 hours and cover a range of 2,200 nm (4,000 km). It is possible to
accomplish missions of up to 8 hr duration ranging to 3,000 nm (5,400 km). Ferry
flights to and from deployed locations can be planned for longer than 8 hr.
Airborne research missions for the ER-2 are planned, implemented, and managed
by the DFRC Airborne Science Directorate. A designated mission manager is
responsible for all phases of the assigned mission and is the official point of con-
tact for experimenters as well as for ground support and flight operations groups.
The engineers of Lockheed Martin Logistics Management, with oversight by
NASA, perform integration of any instrument payload at DFRC.
The purpose of this handbook is to acquaint prospective ER-2 researchers with
the aircraft and its capabilities. The contents of this book should be considered
guidelines, and Lockheed or NASA can provide additional detail or clarification on
any area. The handbook also contains procedures for obtaining approval to fly
experiments, outlines requirements for equipment design and installation, and
identifies the personnel and facilities that are available at DFRC for supporting
research activities. This handbook is revised from time to time. Therefore, before
arranging for experiments it is advisable to contact the Dryden Airborne Science
Directorate for a current issue.